About Breast Enlargement Surgery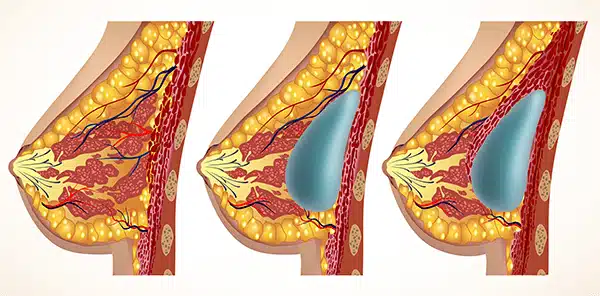 Breast enlargement Manchester surgery, also known as breast augmentation, is a cosmetic procedure to enlarge the size of the breasts using implants. The implants we used to enlarge the breasts are silicone.
Also called a 'boob job', this type of procedure is one of the most popular cosmetic surgery procedures for women in Manchester and throughout the UK. When a woman opts for breast enlargement surgery, their main aim is usually to give breasts a larger size and shape, often to improve self confidence and overall looks. This is achieved with enlarging the breasts, which gives breasts a fuller feel and can positively impact the mind and body.
Why Choose A Breast Enlargement Manchester Procedure?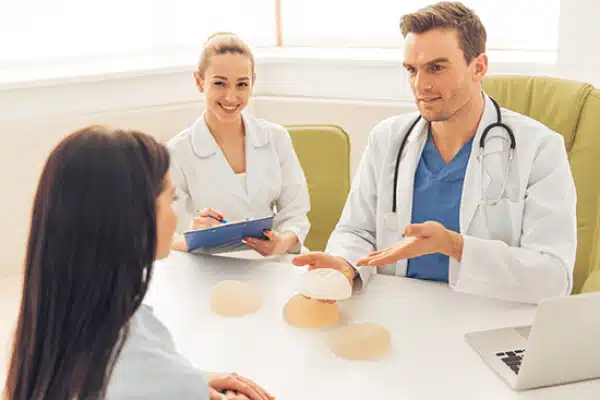 Enlarging the breasts will add volume, making them look more round and larger. However, breast enlargement is not all about trying to 'improve' on what you grew up with. Often change beyond your control is the reason why people choose this type of cosmetic surgery. Women who are unhappy with their breasts, whether because they are asymmetrical, flat, have recently experienced change such as weight-loss or pregnancy, often choose to get a boob job to get the breast volume back.
Ageing is also a major factor in choosing breast enlargement, which is why it is important to speak with an expert consultant in the field, who can advise on size, shape, implant and recovery, in a plan that is tailored to suit your needs.
Furthermore, breast enlargement procedures are sometimes carried out alongside mastopexy, also known as breast uplift, particularly if the issue is 'drooping' boobs. These treatments combined can help lift the breasts at the same time as adding volume.
The Procedure: Breast Enlargement Manchester
Breast enlargement procedures are performed under general anaesthetic.
The procedure takes around 90 minutes to complete and your surgeon, depending on your procedure, may perform one of three incisions.
Under the breast
Around the nipple
Near the arm-pit
Incision size depends on where about your chosen implant is being placed.
Once placed, the incision is stitched and the breasts are supported with a dressing and support bra.
If your surgeon recommends that the breasts will need draining of blood and fluids post surgery, small tubes are left inside the breasts for a couple of days. This is common and does not indicate surgery problems.
Boob Job Consultation At Manchester Private Hospital
The procedure for breast enlargement surgery at our hospital begins with a detailed discussion of your concerns, needs, and goals. Our boob job Manchester expert will then educate you on how the breast enlargement procedure can help address your issues. They will also talk to you about the available implant options and help you choose the right type and size of implants.
Get in Touch with Us to Schedule an Appointment with Our Boob Job Manchester Specialist
Breast Implants Advice By Consultant Breast Surgeon In Manchester
We at Manchester Private Hospital are strongly against enforcing decisions on patients. We believe in helping them make informed decisions. This is why all our procedures for breast implants in Manchester always start with a consultation session with an expert. Our consultant breast surgeons listen to your problems. They also answer all your questions to help you decide if breast implants are the right choice for you.
Talk to Our Consultant Surgeon for Breast Enlargement Manchester Information and Sincere Advice
Discussing Your Needs For Breast Enlargement Manchester
Many of the points to take in to consideration when looking for breast surgery include:
Do you want silicone or saline implants?
Do you want teardrop or round implants?
What size implant do you have in mind?
Will the implant be placed behind the chest wall muscle, or behind the breast tissue?
These are all important points that can be discussed with your cosmetic surgeon.
Your surgeon will also explain the advantages and risks of each of your choices and how it can affect your body.
The benefits of arranging a consultation with one of our professional cosmetic surgeons is that the advice is tailored to your exact needs and body shape.
When considering size, sample bras are available with different fillers, to give you an idea of what implants could, and should look like on your own body.
Certain factors can determine what procedure you should opt for, such as body-shape, build and weight.
Recovery
After undergoing breast enlargement surgery in Manchester, it is normal for patients to feel some discomfort. This can also include swelling, bruising and hardness of the breasts.
For women that feel side effects, painkillers are advised to curb and control pain. It is normal to experience discomfort for up to a few weeks post surgery.
Stitches in the breasts are removed after 7-14 days and scars will continue to fade for the 12 months that follow.
Complications
As with all surgical procedures, there are some risks and complications that can occur.
With breast enlargement, there are a number of specific risks and side effects that you should be aware of before having breast surgery, including:
Infection
Infections are very rare in breast enlargement surgery, however, women can get an infection, which sometimes requires the implant to be removed and inserted at a later date.
Nerve Damage
Although loss of sensation around the nipple can occur on a temporary basis post surgery, there is a chance that some numbness can be permanent.
Rupture
An implant can rupture or leak because of injury – such as a blow to the breast, age or capsular contracture.
Capsular contracture
Internal scar tissue can form a capsule around the implant, which contracts it and causes it to change shape or feel hard. Although one of the more common complications, the chances of it happening are approximately 5%. In most cases, people will notice this complication within the first 24 months of surgery.
Displacement
Implants can sometimes displace inside the breast. Although moving implants is rare, if the displacement is large it will need to be corrected with surgery.
Necrosis
When cells or tissue die or fail to receive sufficient blood supply, it is known as necrosis. This can happen during the healing process and will require surgery to fix it.
Galactorrhoea
The spontaneous production of breast milk can happen after breast surgery. This complication is very rare but if it occurs can go away on its own. However, there has been cases where implant removal is required.
Haematoma
Sometimes a pool of clotted blood can collect in a cavity within the body, known as haematoma.
Seroma
Seroma is fluid that can develop in a cavity after surgery made up of blood plasma, which requires drainage.
Breast Augmentation In Manchester – Why Choose Manchester Private Hospital (MPH)?
There are plenty of reasons why MPH is one of the top choices for breast augmentation in Manchester and nearby areas. Here are some of them:
We offer a wide range of medical and aesthetic procedures to help people look and feel their best.
We continue to buy the latest technology to ensure our clients receive the best services and breast augmentation results.
Our patient-centred approach guarantees that you receive the best advice and services. We do not put you through unnecessary procedures or make your stay at the hospital any longer than necessary. We only do what's best for you.
Our breast enlargement clinics in Manchester, London, Birmingham, and Liverpool are located in central locations to ensure they are easy to find and access.
Manchester Private Hospital provides first-class services and care. This would not be possible without our incredible team of experts that works tirelessly to help us live up to our claims and maintain our reputation. Check out some reviews to know it's not only us who believe our team is the best; our clients also think we are the best for the boob job in the UK MPH taking one of the top spots for 'breast enlargement near me' searches in Manchester is a testimony to our impeccable services and our client's trust on us.
Video On Breast Enlargement Manchester Surgery