What Is Arm Lift Surgery?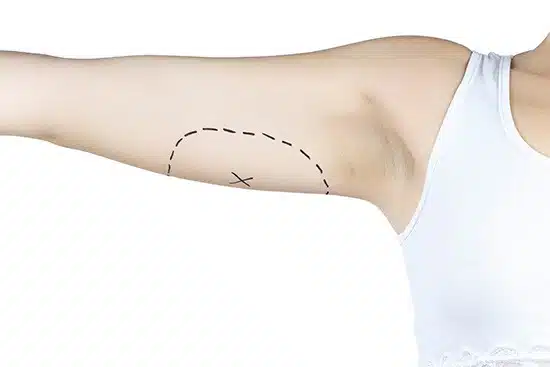 Arm lift surgery, medically known as brachioplasty, is a cosmetic procedure designed to improve the contour of the upper arm.
Brachioplasty is performed to reduce or remove excess fat and skin often left behind after weight loss, but sometimes caused by ageing and genetics.
Also known as 'bingo wings', the upper arms are a common problem area for many women and men who feel they suffer from stubborn fat that is hard to reduce through diet and exercise alone.
During arm lift surgery, one or more cosmetic methods can be carried out on the arms, such as liposuction and excision, to achieve the desired goals and results.
It is common for cosmetic surgeons to combine methods to help achieve the perfect arm contour that improves patient confidence and boosts self esteem.
Why Choose Brachioplasty?
Arm lifts are performed for a number of reasons on both men and women. Each patient often has their own reasons for considering surgery but they all have one thing in common – they are unhappy with the way their upper arms look.
Many people find that undergoing surgery may be a recent decision, or that it is an area of the body that they have always struggled with throughout their life.
The ultimate aim of arm surgery is to remove excess fat and sagging skin from the upper arms in order to achieve a more aesthetically pleasing contour.
Arm lift surgery can:
Boost self confidence and self esteem
Eliminate 'bingo wings'
Reduce cellulite
Remove excess skin caused by genetics or ageing
Create an aesthetically pleasing contour that is more in proportion with the rest of your body
Reduce the need to cover your arms with clothes and allow you to wear other types of clothing
Improve muscle tone in the upper arms
Stop sagging on the undersides of your arms
About Arm Lift Surgery
Arm lift surgery is typically performed under general anaesthetic and takes around 90 minutes to 2 hours to perform.
Depending on the severity of the condition, your surgery time may vary based on the techniques and methods used by your surgeon.
It is common for cosmetic surgeons to combine an arm lift with arm reduction surgery with the use of liposuction.
Types Of Brachioplasty
Liposuction, including Vaser Lipo
Minimal
Traditional
Extended
Non-excision
Arm Lift Aftercare / Recovery
The aftercare and recovery process following arm lift surgery varies from patient to patient depending on the extent of the procedure and condition.
You will receive a specific aftercare plan that you must follow to not only recover in the best and quickest way, but to also get the most out of your procedure to achieve the results you set out for.
Generally, an arm lift aftercare plan includes:
Wearing compression garments around the upper arms for up to 2 months. Tight bandages help to support the arms after surgery and can be removed when taking a bath / shower.
Clinical cream / gel to help with the healing of scars.
Rest
Avoid direct sunlight
Take a minimum of 1 week off work depending on your job type.
Avoid sports and exercise for 10-14 days. Then slowly introduce them back into your routine. Keep strenuous activities to a minimum until after 6 weeks.
Avoid driving for a minimum of 5 days.
Following your plan of aftercare can reduce swelling and achieve the best result possible from your surgery.
Results
The results from arm lift surgery can be felt and seen immediately. However, the surgery site will be covered with tight bandages and should remain in place for up to 2 months.
You will continue to see the results for up to nine months post surgery as your arms settle and side effects subside
Side Effects / Complications
When you undergo arm lift surgery, your arms suffer a level of trauma that can leave you with temporary side effects, symptoms and rare complications.
These include:
Bruising
Swelling
Pain / discomfort
Scarring
Bleeding
Asymmetry
Skin sensation changes
Why Manchester Private Hospital For Arm Lift Surgery?
At the Manchester Private Hospital, we believe that all patients should have the knowledge to make an informed decision regarding their surgery. We never pressure patients in to making a decision and recommend leaving two to three weeks after your consultation and before opting for surgery to do what is right for you.
Our experienced consultants and medical professionals strive to put patient safety and satisfaction at the heart of everything we do.
For many years, we have been performing arm lift surgery with liposuction to eliminate the presence of 'bingo wings' that cause distress and low self esteem
Book Your Arm Lift Consultation Now
Whether you are based near to our clinic in Manchester or further afield, we offer all patients a no obligation quotation with absolutely no pressure.
Our consultants will carefully assess your upper arms and discuss in detail what you would like to achieve from surgery.
We will always advise you on what is realistic for you and your body type and allow you to make decisions in a relaxed, state of the art environment.
Call today on 0161 507 8822 to make the first step and start your journey to getting the arms you've always wanted.