About Breast Asymmetry Surgery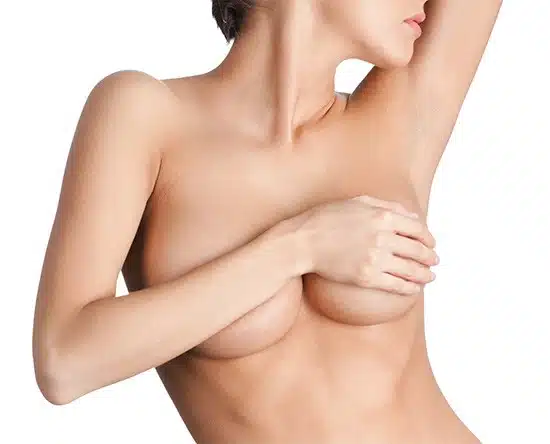 Breast asymmetry is the term used to describe different sized or uneven breasts in females. Asymmetry can either be mild or severe and affects the position, volume and form of the breasts.
Whilst slight differences between two breasts on a woman is common, more noticeable variations in size can cause issues, including discomfort, distress and lack of self confidence.
If you feel that your boobs are uneven, they can be corrected in a number of ways depending on your individual circumstances and body type.
Asymmetrical correction methods:
Breast reduction to one breast to decrease the size of the larger breast.
Breast enlargement of one breast to increase the size of the smaller breast.
Nipple surgery to reduce the size of the areola on one or both breasts.
Breast uplift to move one or both of the breasts to improve symmetry and raise nipple position.
Complete breast augmentation procedure to increase the size of both breasts using implants and / or fat transfer.
In many breast asymmetry surgery cases, a combination of multiple procedures may be beneficial to achieve the best possible results and meet the needs of patient goals.
Why Choose Breast Asymmetry Surgery?
Different sized or uneven boobs are a common problem for many women in the UK, who struggle with the difference in size and often make lifestyle choices based on the feelings asymmetrical breasts bring.
Although breasts are viewed as the cliché; 'sisters, not twins', in some patients, discrepancies between the two can be severe. With this comes symptoms that can greatly affect the physical and psychological wellbeing of patients.
For some women, unevenness may be a minor case of the breasts hanging slightly lower from one another, but for others, breast asymmetry can be as extreme as two cup sizes different.
Undergoing breast surgery to correct your uneven breasts can have many benefits, including:
Boost self confidence
Allow underwear to fit more comfortably
Increase self esteem
Eliminate feelings of embarrassment, especially in public such as swimming or in changing rooms at the gym
Remove fat from other problem parts of the body for injection in to the smaller breast
Bring evenness to underdeveloped or overdeveloped breasts
Correct differences in nipple height
Breast Asymmetry Results
Breast asymmetry has a very high success rate and high patient satisfaction rate. The results that can be achieved through this cosmetic procedure are excellent and allow surgeons to hit the goals of the patient. Once the size and shape of the boobs have been evened out, it is very unlikely that asymmetry will occur, providing that the patient does not go through any drastic lifestyle changes such as severe weight gain/loss.
Breast Asymmetry Aftercare / Recovery
Depending on the extent of your surgery and the type of procedure you undergo, your aftercare plan will differ and be tailored to your specific circumstances.
Generally, the longer your procedure takes to perform, the more aftercare will be required. For example, a patient undergoing augmentation, fat transfer and mastopexy will need more rest and recovery than a patient undergoing a single unilateral procedure.
In the majority of breast asymmetry cases, the procedure is performed under general anaesthetic and a one night stay in hospital is required.
Once you are discharged from hospital, recovery time takes between 2 weeks and 2 months. During this time you will follow the aftercare plan given to you and will be provided with a bra for support and to stop breasts moving during healing.
Side Effects / Complications
All surgical procedures come with some level of risk, and breast asymmetry correction is no different. However, complications are rare and with the correct, sensible aftercare and recovery plan, you can be side effect free after a few weeks post surgery.
Always ensure you wear your support bra following your procedure to reduce the chances of wounds being stretched / opened by the natural weight of the breasts. Other side effects and complications include:
Infection
Swelling
Bruising / discomfort
Seroma
Blood clot
Capsular contracture
Nerve Damage
Why Manchester Private Hospital For Breast Asymmetry Correction?
At the Manchester Private Hospital, our highly skilled team of surgeons and medical professionals have the knowledge and experience to correct uneven breasts with asymmetry surgery.
Whether it is unilateral breast augmentation/reduction or multiple procedures, patients are provided with endless information in order to help them make the right informed decision for them.
In addition, our staff provide unrivalled aftercare and recovery support post surgery to ensure you have peace of mind from the start of your journey through to completion.
Furthermore, we provide the most effective and advanced cosmetic breast treatments to achieve the desired results of the patient regardless of body shape, type or ethnicity.
Book Your Breast Asymmetry Consultation Now
The Manchester Private Hospital offer specialised treatments that are tailored to each individual patients needs. Our surgeons are some of the most experienced in the field and you can have peace of mind of knowing that you will receive transparent, honest guidance on the most suitable procedure for you.
Call 0161 507 8822 to book your consultation with confidence in our state of the art facilities with the most advanced medical equipment that allows us to meet your realistic goals and boost your self confidence.