What Is A Thigh Lift?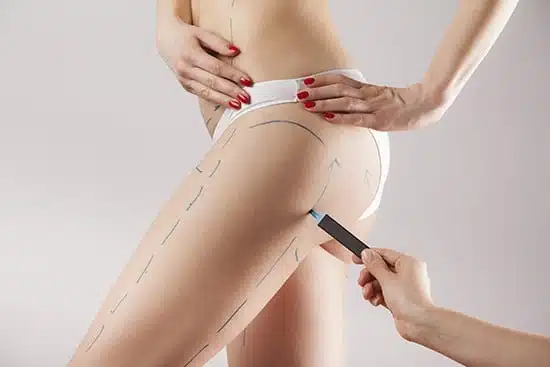 A thigh lift is a cosmetic surgery procedure designed to improve the aesthetic appearance of the thigh by removing excess fat and skin.
Medically referred to as thighplasty, a thigh lift procedure can achieve results of a toned and more smooth appearance that is more in proportion to the rest of your body.
The procedure is performed in a variety of ways depending on the extent of surgery required and patient goals. Liposuction is commonly used in a thigh lift in conjunction with excision to create a firmer look and more pleasing body contour.
Why Choose Thighplasty?
The fat in the thighs is known for being stubborn and difficult to remove. Even when weight loss has occurred on other parts of the body, fat and sagging skin can still remain.
Excess fat and skin can often be present in the thighs and cause distress and anxiety by the making the patient look larger or older than they actually are.
A thigh lift surgeon will target these problem areas and can reshape and smoothen both your inner and outer thighs where weight loss is difficult through natural means.
Thighplasty can bring patient satisfaction by tackling some common complaints. The procedure has many benefits, including:
Remove sagging / hanging skin
Remove stubborn fat that can cause rippling and 'overhang'
Tighten underlying tissue
Combined surgery with liposuction for the ideal contour
Create slimmer and smoother looking thighs
Boost self confidence and open up clothing possibilities such as swimming costume / bikini
About Thigh Lift Surgery
Thigh lift surgery is performed under general anaesthetic on an outpatient basis.
The procedure can take between 2-4 hours to perform depending on your body size and type.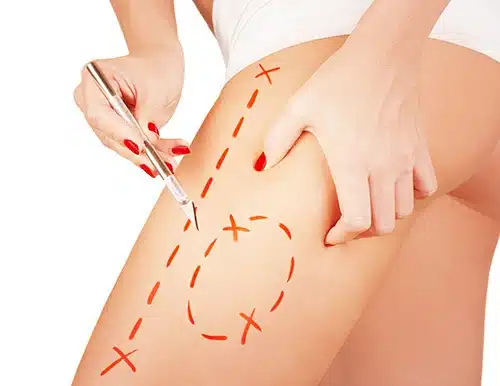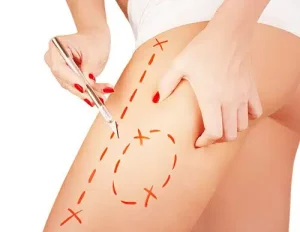 Excess fat and sagging skin is removed and your surgeon will tighten and reshape the remaining underlying tissue, along with lifting and smoothing the skin.
There are 4 main thigh lift procedures:
Inner thigh lift
Outer thigh lift
Mini thigh lift
Medial thigh lift
During a consultation, you will be able to discuss the different types of thigh lift available and what is right for you. Each type of thighplasty targets a different area of the thigh and will achieve different results. Liposuction can also be used to precisely target stubborn fat and assist in reaching your aesthetic goals.
Thighplasty Aftercare / Recovery
Before you undergo thigh surgery, you will be made aware of the aftercare and recovery guidance that relates to your specific patient care.
It is important to rest and clean your wounds whenever possible and ask for assistance from a companion to help with daily duties. Below is a list of the general guidance for thighplasty recovery:
Bandages and drains will be applied post surgery, which may remain for a few days. It is important to clean incisions, keep compression garments in place and look carefully at the fluid in the drains for signs of infection.
It is common to feel mild pain and discomfort, which can be managed with pain relief medication.
Ice can be used to ease symptoms of swelling and bruising of the thighs.
Using pillows are a good way to take pressure off your legs during the recovery process and be sure to rest up.
In the days and weeks that follow, you will need a follow up appointment with your consultant to examine the surgery and progress.
Patients can benefit from time off work as it provides downtime to relax and recover. Up to 3 weeks would be ideal but a minimum of 1 week off is recommended.
Compression garments can be removed after around 4 weeks and providing you are feeling up to it; light exercise can be resumed.
Scars will fade after 3 months and continue to fade in the following months to a year.
Side Effects / Complications
Thigh surgery comes with some common side effects and rare complications.
These include:
Pain and discomfort
Swelling and bruising
Change of sensation in your skin
Anaesthetic allergic reaction
Asymmetry
Sagging
Bleeding
Infection
Blood clot
Fluid accumulation
Wound dehiscence
Scarring
Why Us For Thigh Lift Surgery?
At the Manchester Private Hospital, we have the skills and expertise to perform all types of thighplasty and have been carrying out cosmetic procedures on the thighs for many years.
Whilst some patients want to create the perfect 'thigh gap', others simply want to ease discomfort. Our surgeons can assist in helping you achieve your aesthetic goals and remove stubborn fat that won't shift through regular diet and exercise.
Our team are body sculpting experts and use a combination of regular surgery combined with the most advanced liposuction techniques to achieve realistic results that are permanent.
Book Your Thigh Lift Now With Confidence
Arranging a consultation with one of our specialist thigh surgeons is a must when it comes to finding out exactly what can be achieved with thigh surgery and what is too unrealistic.
Our state of the art hospital facilities are the perfect environment for making you feel comfortable during every stage of your surgery from consultation through to aftercare and follow up appointments.
Call today on 0161 507 8822 to speak with a friendly member of our team and arrange a consultation at a time to suit you. And if you prefer to spread the cost of your surgery, ask us about our affordable finance options with low deposits.