What Is Toenail Removal?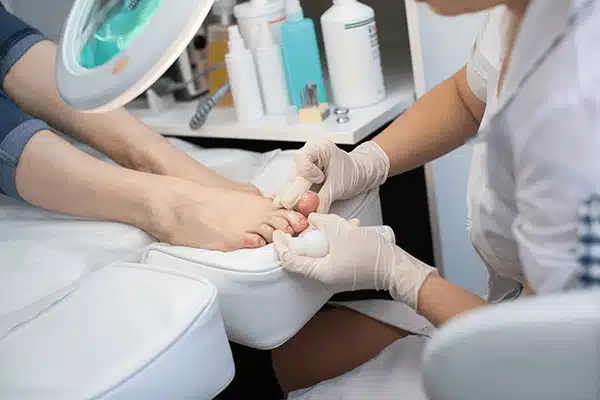 If you experience severe or ongoing problems with one of your toes, you may decide to have the toenail removed.
Troublesome toes can cause major issues for both men and women despite being such a minor body part. Issues include; pain, discomfort or simply being unsightly, which can come with its own knock-on effects of embarrassment or feeling self conscious when wearing sandals or barefoot.
One of the main troubles that people suffer with are ingrown toenails.
Ingrown toenails are one of the most common reasons why patients choose to have their toenail removed and can occur when one of the top corners of the toenail grows into the toe.
Although people can suffer with ingrown toenails on any toe, it is more common on the big toe.
There are a number of reasons why you may have an ingrown toenail, including:
Naturally curved growing toenails
Tight shoes that squash your toes
Cutting the toenail too short or too round
Blow or injury to the toe
Surgical removal of your toenail can be performed by a specialist surgeon using a local anaesthetic injection to stop pain. The skin is the loosened around the nail in order to separate the nail from the skin.
Why Choose To Remove Your Toenail?
Your Toenail (and sometimes fingernail) can become diseased or damaged and can cause symptoms of pain, discomfort or emotional stress.
Living with symptoms can sometimes take its toll, especially when the toes play such an important part of our everyday lives. Particularly with the fact that healthy adults should aim for 10,000 steps per day as part of a healthy lifestyle.
Many patients opt for surgery to remove their problematic toenail for a number of reasons, including:
Diseased toenail
Fungal nail infection that is difficult to cure through medicine
Ingrown toenail (including severe)
Constant or persistent toe pain
Reoccurring ingrown toenail
Unsightly toenail
Toenail surgery can sometimes seem daunting, and usually it is not something people jump in to straight away. However, if you suffer with severe symptoms of troublesome toes, surgical removal may be an option. Be sure to speak with a specialist first to see if you can achieve the results you want.
Toenail Removal Surgery Aftercare
As local anaesthetic is used in toenail removal procedure, patients can not feel anything during the procedure and for up to a few hours afterwards. Painkillers can be used when the feeling returns as some pain and discomfort may be felt.
Over the days following your procedure, discomfort and pain will subside and there are no special dietary requirements as long as you feel up to eating.
Your toe will be dressed in a gauze or bandage so that the wound can heal over the week that follows. After which it can be removed.
During this aftercare period, be sure to keep dressings as clean and dry as possible and wear large or open shoes to accommodate for dressings. Open toe shoes are preferable.
When you return home after your surgery you should try and take it easy and rest for 1-2 days. Depending on your job you may be able to return to work within 24 hours and driving is permitted as soon as your toe is comfortable.
Side Effects Of Toenail Removal
Having your toenail removed is a straightforward procedure. However, there are some side effects and rare complications that patients should be aware of, including:
Bleeding
Pain and discomfort
Tender toes
Infection
Abnormal nail growth when toenail grows back
If you are concerned about the way your toe feels after your surgery, do not hesitate to contact your clinician for reassurance and peace of mind.
Why Us For Toenail Removal?
At the Manchester Private Hospital, we are specialist cosmetic surgeons with years of experience carrying out different procedures on all parts of the body. We have patients from all across the North West and developed a process that puts patient care at the heart of everything we do.
We are able to remove toenails and fingernails effectively and in a timely fashion all the while making you feel as comfortable as possible. Our experts can put your mind at rest and provide you with a personalised aftercare plan for your recovery.
What's more is, we are always just a phone call away from answering your questions and giving you peace of mind when you need it most.
Book Your Toenail Removal Today
Sore, swollen and unsightly toes no longer have to be a daily struggle. We can surgically treat troublesome toes quickly so that you can get back on your feet and doing the everyday things you want.
Book your toe consultation today on 0161 507 8822 so that our toenail experts can take a look and advise on the best cause of action for you.