What Is Otoplasty?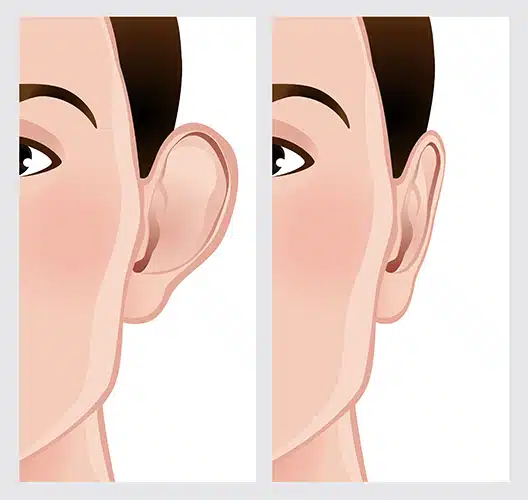 Otoplasty, also known as ear correction surgery, is the cosmetic procedure that is designed to change the appearance or defects of the ear (auricle).
Surgery can change the shape and / or size of the ears along with reducing how much they stick out, commonly referred to as pinning back.
The procedure, which can involve pinning the ears back to the head can be carried out at any age over the age of five.
Otoplasty is considered a cosmetic procedure because defects often do not impact on the ear function or hearing. Therefore, those seeking to improve the way their ears look is a decision made purely for cosmetic reasons.
The ear is made up of three sections; inner, middle and external. Otoplasty only involves the external outer ear, also known as the pinna.
The pinna is made up of cartilage and skin, which during surgery can be altered or removed to a more desired position.
Why Choose Otoplasty?
There are a number of reasons why patients choose ear correction surgery.
Prominent, protruding or misshapen ears can be bothersome and cause stress and anxiety, especially if a person has been victim of bullying at some point in their life.
Often self confidence can be affected growing up if a person has had an issue with their ears since childhood.
Ears that stick out or look different can make people feel embarrassed and cause a number of psychological issues including low self esteem.
A persons behaviour and well-being can also be significantly impacted by defects of the ear, such as the hair styles people opt for, the clothes they wear, whether they socialise or their everyday appearance at work.
Some of the complaints people note when opting for otoplasty include:
Their ears are too large.
Their ears are too small.
Their ears stick out too far.
Their ears are not in proportion to their head.
They are unhappy with previous surgery.
About The Procedure
Ear correction surgery starts with a consultation with a specialist surgeon.
During the consultation you can discuss your needs and any concerns you may have about the procedure.
Your specialist will also provide advice and guidance on what to expect and what can be achieved with otoplasty.
It is important to make a note of everything you can think of relating to your cosmetic ear surgery so that you make the most of your consultation. This ensures that you have all the necessary information you need to make an informed decision on what surgery you are opting for.
A consultation generally covers three main points:
A medical history review, whereby questions will be asked about a patients' past and current medical conditions. This includes any medication and whether or not you suffer from ear infections.
A physical examination, which may include taking photos for your records along with a specialist ear doctor examining the symmetry, shape and placement of your ears along the size.
An expectation plan, where a discussion will take place on why you want otoplasty and what you want to achieve. Your doctor will be able to explain realistic expectations along with any risks involved in the procedure.
Towards the end of the consultation, your doctor will assess whether you are a good candidate for ear correction surgery.
Ear correction surgery can be performed as an outpatient or during a stay in hospital.
Depending on the type and extent of procedure, local anaesthetic or general anaesthetic may be used.
The procedure involves your surgeon making incisions on or around the ears. Common areas where incisions are made include the back of the ear and inside the ear creases. Some scarring can occur after surgery.
Along with incisions, excess skin and / or cartilage is sometimes removed or folded in to a new position.
Otoplasty operations can vary in duration as each procedure is different based on the individual patient. The typical time for otoplasty procedures is 2 to 3 hours.
Advantages Of Otoplasty
There are many advantages to undergoing ear surgery. Procedures can cover everything from small operations to major transformations.
There is no set reason why a patient would undergo otoplasty procedures and each operation varies from person to person.
However, the complaints that people have regarding their ears tend to be common regardless of how they affect the individual, such as being too large, sticking out too far from the head and being out of proportion to other facial features.
Otoplasty can correct these common complaints.
It is also one of the more high rate of satisfaction cosmetic procedures in the industry.
In addition, these procedures can help with low self esteem and emotional suffering.
Recovery & Aftercare
After you have undergone otoplasty, your ears will be bandaged to support and protect them.
Some patients report feelings of itchiness and some discomfort following surgery. Your doctor will prescribe painkillers to ease symptoms until this has passed.
It is advised that you try to sleep on your back to keep any pressure of your ears, e.g. from lying on your side.
Avoid rubbing your ears and try to keep limited pressure on the ear region as it can affect incisions.
Patients should also take caution when putting clothing tops on and taking them off. If possible, wear button garments to avoid clothes going over the head. If unavoidable, try to wear clothing that has loose collars and wide neck areas.
Bandages are often removed a few days after your procedure. It is common for your ears to be red and to experiencing some swelling.
A headband will be provided that you can sleep in. You should sleep in this loose headband, which covers ears for up to six weeks. This is especially necessary for those who are restless sleepers and toss / turn a lot in the night.
As each procedure is different from patient to patient, your surgeon will advise when your stitches will be removed post surgery. Often dissolvable stitches are used so that no removing is necessary.
Depending on the extent of your surgery, your surgeon will advise on when you can return to daily activities such as getting a shower / bath and when to return to more strenuous activities such as sports and working out at the gym.
Complications & Side Effects
As with all medical procedures, there are risks, potential complications and side effects that you should be aware of before making a decision to proceed with otoplasty.
Some of the side effects include:
Bleeding, whereby a blood clot forms under the skin, which can cause it to bleed, be painful and inflamed. If this occurs, you will need to return to your specialist to have the bandages removed and receive treatment.
Stitches – sometimes stitches can be difficult to remove due to the intricate nature of the procedure.
Infection, which can occur in the cartilage or skin of the ear that needs to be treated with antibiotics. However, this is rare.
Asymmetry, where the ears do not appear symmetrical after surgery.
Partial / Over Correction, whereby the desired results have not been totally achieved or have been overcorrected, causing the ears to position closer to the head than expected.
Scarring – incisions are usually very small, but can leave lasting scars after otoplasty.
Bruising / Numbness
Why Choose Us
At the Manchester Private Hospital, we have the knowledge and expertise to help you make an informed decision on ear correction surgery.
Our skilled and highly trained staff are on hand to ensure you have all the details you need.
What's more is, we are not sales driven and will never push you in to having surgery that we do not feel you are an ideal candidate for.
In addition, our consultations are designed to take the stress away from you and break down all the information you need, giving you the time you need to process it and ask any questions you are unsure of.
For many years, we have been correcting ear problems with our otoplasty procedures to help build self confidence and give patients the appearance they desire.
Contact our dedicated otoplasty team on 0161 507 8822 for a friendly discussion and to arrange an otoplasty consultation with absolutely no obligation and no pressure.