What Is Gynecomastia?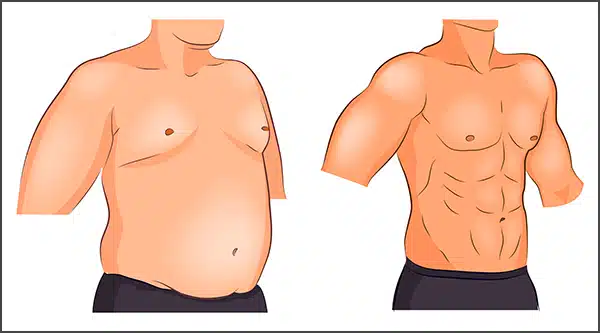 Gynecomastia, is a condition in men known as 'man boobs', whereby the breasts become larger than normal.
Older men and teenagers are those who are most affected, but it is not limited to those age groups.
Older men and teenagers are those who are most affected, but it is not limited to those age groups.
There are a number of reasons why men experience gynecomastia, including; hormone imbalance, older age, obesity and medication.
If you have an imbalance between sex hormones, you can suffer from 'man boobs'. Too much oestrogen in the body can cause breast tissue to grow, while not enough testosterone does not counteract the small levels of oestrogen that are present in all males.
Being very overweight is also a common cause of man boobs. Again, this is down to increased levels of oestrogen, which causes more tissue than normal to grow in the breasts.
This, in combination with excess fat in the same area can cause large abnormal breasts in men. Sometimes losing weight can cancel this out, but is not guaranteed to 'cure' gynecomastia.
Why Choose Gynecomastia Surgery?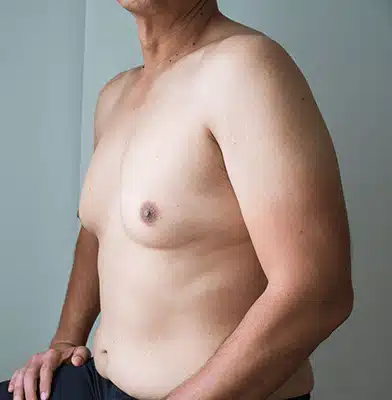 Gynecomastia can cause both psychological and physical issues in men. That is why more men in Manchester and throughout the UK are opting for surgery. Excess breast tissue can make you feel 'less of a man' and be problematic when shopping for new clothes, undressing in a public area such as the gym, or swimming pool, and make you feel embarrassed in your love life.
If your man boobs are caused or enhanced by being obese, it is always advised to try and lose weight and maintain a healthy lifestyle first. Not only can this potentially reduce the size of the breasts, but will contribute to good overall health in the future.
Speaking with a consultant who is an expert in this field will help you identify your condition, and confirm that you have gynecomastia and not just excess fat breasts.
Surgery to reduce the size of man boobs is often the correct path to pursue for some men. In some cases, opting for this procedure can reduce distress and pain.
About The Procedure
Breast reduction surgery for men is often carried out under general anaesthetic.
This means that you will be asleep for the procedure and will need to spend at least one night in hospital.
The surgery is carried out by making an incision around the nipple and sucking out excess fat cells and tissue using liposuction.
If there is a lot of fat to remove, repositioning of the nipple may be required in one or both of the breasts.
On average, the procedure takes around 1 and a half hours to complete and most patients are admitted to hospital for at least one night.
Recovery
For men that undergo breast reduction surgery, they find that it takes up to 1 month to completely recover.
However, it is advised that a few days off work immediately after surgery are best to be taken so that your body is given the best chance to recover without complications.
Patients are provided with an elastic garment that is to be worn throughout the day and night for a couple of weeks post surgery.
As this procedure requires incisions, dressings will be provided straight away and will need to be changed after some time depending on how the cuts are healing.
Towards the end of the surgery, when fat has been removed, wounds are stitched with dissolvable stitches. However, in cases where dissolvable stitches are not used, the patient is required to return to clinic to have them removed.
It is very important to listen and take note of the advice that your surgeon will provide regarding recovery. Patients should avoid exercise, stretching and lifting heavy objects for up to 2 months after undergoing treatment.
For people who drive, they will be able to do so providing that it is not painful when wearing a seatbelt. If pain or discomfort is experienced when you put on a seatbelt, you may have to wait a few weeks for it to subside before getting behind the wheel.
Results
One of the benefits of breast reduction surgery in men is that the results are instantly noticeable.
Whilst some swelling can occur from this procedure, the reduction in size of the breasts can be viewed in the mirror within days.
However, it can take up to 6 months to see the full results.
Advantages Of Gynecomastia Procedures
Reducing the size of man boobs can be beneficial to health and wellbeing. Not only can it reduce stress, but also positively impact the mind in everyday life. Men who suffer from gynecomastia have reported that the condition makes them self-conscious, embarrassed, scared to undress in public and worried about playing sports. All of this can be eliminated by treating the condition. Building confidence is another benefit to gynecomastia surgery. Not only does it help you feel good on the inside, but on the outside too. Whether you have suffered with this condition long term, or recently developed it, you can get back to being who you want to be and how you want to look to yourself and others.
Why Us
At Manchester Private Hospital, we have been providing procedures for gynecomastia for many years.
Our qualified, experienced consultants have the knowledge and experience to discuss the condition with you, and provide both a short-term and long-term plan that is tailored to suit you.
We understand this condition inside and out. It can be embarrassing, difficult to discuss and a sensitive subject. However, our attentive and friendly staff will help you identify exactly what your issues are and put your mind at rest with professional advice and aftercare programmes.
Based in Manchester, we are an accessible hub for cosmetic procedures in the North West and we ensure patients are put first when it comes to wellbeing, safety and confidentiality.
Our affordable pricing makes it easier and within reach to put an end to your man boobs and regain your confidence.
Arranging a no obligation consultation is the first step to receiving treatment, where you'll be given a personalised plan of action and treatment programme to suit you and your goals.
Complications
As with all surgical procedures, patients should expect some side effects and possible complications with gynecomastia surgery. Whilst this will be discussed in detail during your consultation, you can read about the risks and side effects below.
Patients who undergo surgery for man boobs often report soreness in the treated area for up to a few weeks. This is common and not usually cause for concern.
There will also be scarring where incisions are made during the procedure. Scars are small but will take a few months to fade slightly and will continue to fade in the following months to years.
Usually, gynecomastia does not cause any serious issues. The most common side effect is that there is a scar around the nipple. However, depending on the size of the breasts and the treatment required, scarring may be present horizontally and/or vertically across the crease of the breast.
Furthermore, there is some element of risk when it comes to more serious complications. These can include:
Loss of sensation in the nipple
Thick scars that do not fade
Uneven breasts
Lumps, swelling or bruising in the breasts
Bleeding inside the breasts, which usually happens within the first 24 hours post-surgery
Infection
Blood clots
Excessive bleeding
If you have any concerns about the risks and complications associated with breast reduction surgery, speak with one of our professional consultants who will answer your queries and give you peace of mind.
Book Your Consultation Today
Gynecomastia can put added stress and pressure on your life that you can do without.
If you're tired of your man boob burden and would like to know more about having a flat chest or reducing the size, call us on 0161 507 8822 and we will be able to advise you on your options.
A no obligation consultation with a member of our trained team will put your mind at rest and open doors for you to build your self confidence.
If you're embarrassed, there really is no need to be. Our experienced professionals understand the ins and outs of your condition and will be happy to send you more information prior to booking a consultation. Simply email us using the form on our contact page and we can start the ball rolling on the path to a new, confident you.