About Breast Re-Augmentation Surgery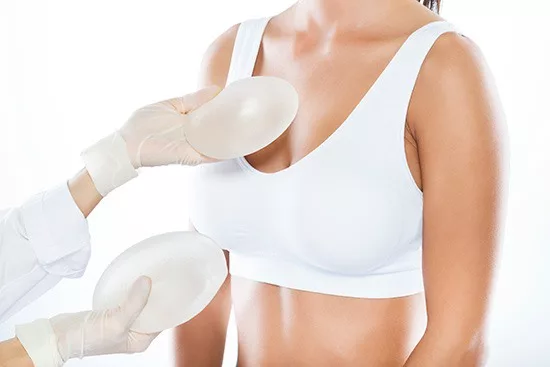 Breast re-augmentation, also known as 'Revision Breast Surgery', is a cosmetic surgical procedure whereby existing, current implants are removed and replaced with new implants.
The procedure may also remove any internal scar tissue and repair the pocket of the old implant, ready for re-augmentation.
In the majority of patient cases, the entire surgical procedure is performed through the original incision site to minimise scarring and eliminate the need for additional incisions.
Breast implant replacement is often confused with breast explant – where a patients implants, either silicone or saline, are completely removed and are not replaced with new implants.
Instead, breast re-augmentation procedures always involve replacing old implants for new, and depending on the condition and health of the internal tissue and breast pocket, is done so on a like for like basis, providing there are no major changes in size.
Ultimately, the goal of a breast reaugmentation is to improve the look of current / old breast implants and improve overall patient satisfaction – addressing any concerns or issues from a previous augmentation procedure.
Why Choose Breast Reaugmentation?
Many women all over the UK, including Manchester and other Northern regions, are unhappy or dissatisfied with the appearance of their current boob job.
Whether it is due to ageing, lifestyle changes, preference or complications, many people choose breast reaugmentation for a number of reasons, including:
Deflated or ruptured breast implants
Growing distrust in implant integrity (such as UK PIP scandal of manufacture fraud with unapproved silicone gel)
Very low sagging breast implants, also known as 'bottomed out boobs'
Severe hard scar tissue – Capsular contracture
Feeling that the current size / shape of breast implants no longer suits the needs of the patient
Concerns over family life (usually young mums) and breastfeeding
To decrease (downsize) or increase the size of breasts
Lifestyle choices such as bearing children or losing weight have caused changes in breast appearance
Ageing
Due to the increased popularity of boob jobs in the UK, the number of women undergoing breast reaugmentation has also gone up.
Enhancing the breasts through implants is one of the most common cosmetic procedures performed nationwide. The outcome / end result of a procedure can vary from surgeon to surgeon and clinic to clinic. With that said, patient dissatisfaction is not uncommon and can either be immediate or may grow over a period of time. Therefore, reaugmentation can correct inadequate or undesirable breast surgery results.
Advantages Of Breast Reaugmentation
Making the decision on whether to opt for more surgery with a breast reaugmentation procedure is never easy. For what is viewed to some as a once in a life time procedure may bring feelings of anxiety and stress at the thought of it again. However, there are many advantages to undergoing revision surgery on your breasts, including:
Correct rippling or deflated breasts.
Reduce abnormal firmness that may warp the breasts' shape.
Fix the asymmetry of boobs that may be imbalanced due to age, scarring or damaged pockets.
Correct poor surgery from a previous cosmetic surgeon.
Change the size of the breasts to a more satisfactory proportion. Many women who undergo breast implant surgery decide at a later date that they went too small or too large.
Reposition displaced implants that appear too far apart, too close together, too high or too low on the chest or under the armpit.
About Breast Reaugmentation Procedure
For patients who are considering reaugmentation on a previous boob job, they are advised to speak with a specialist revision surgeon during a consultation.
Each patients' circumstances can vary case by case so it is important to understand that your individual situation may be unique. For example, you may have more scar tissue, a different brand of implants or your breasts may be positioned disproportionately to the rest of your body.
The procedure is performed under general anaesthetic and your old implants are taken out from the same incision as your original surgery. Depending on the condition of your breast tissue and scarring, your surgeon may remove parts of the damaged breast. From time to time liposuction is also used before your new implants are inserted.
The entire procedure can taken between 60 minutes to 3 hours.
Breast Reaugmentation Results
Whilst it may take weeks and in some cases months to see the full results of breast surgery, the results of breast reaugmentation surgery are visibly instantaneous.
Depending on the extent of your procedure and the reason for having revision surgery in the first place, you should be able to see the clear difference between your old breasts implants and new.
Your clinic will provide you with a personalised aftercare plan to ensure full and proper recovery with your new breasts, including compression garments and support bras.
Breast Reaugmentation Recovery / Aftercare
Following your breast reaugmentation procedure, an overnight stay in hospital is usually recommended for immediate aftercare and stable recovery. However, this is something that you can discuss with your surgeon during a consultation as not every patient is required to stay in hospital after reaugmentation.
After the initial surgery, you will be monitored for a few hours until the effects of the anaesthetic wear off.
Once you are discharged, you will be given an aftercare plan to follow so that you get the best possible results from your surgery and also recover back to full health after the trauma of the procedure.
Patients can expect an immediate feeling of tightness and swelling around the breasts and upper chest. This is common and will settle down after around two weeks.
Side Effects / Complications Of Breast Reaugmentation Surgery
As with many major cosmetic surgery procedures, breast reaugmentation comes with its own list of side effects and possible complications that all patients should be aware of.
With the correct aftercare and time for recovery, side effects can be minimised. However, side effects include:
Pain (usually temporary)
Bruising and swelling
Tight feeling in chest
In addition to common side effects of reaugmentation, there are risks and complications that patients must take note of in order to make an informed decision prior to their surgery. These include:
Breast scarring that does not fade
Hard breast tissue
Leaking implants
Infection
Nerve Damage
Blood clot / excessive bleeding
Anaesthetic allergic reaction
Regular mammogram x-rays are still required but may be less effective when examining a ladies breasts that have been enhanced. Additional scans may be required.
Why Us For Breast Reaugmentation
At the Manchester Private Hospital, we have a team of qualified medical staff that will take you through your cosmetic journey with as little stress as possible.
We put patient care at the heart of everything we do and care about patient satisfaction with each and every individual. With breast re-augmentation, we understand the sensitive position women are put in when they are dissatisfied with a previous experience. That is why we provide consultant level care with flexible appointments to give you maximum peace of mind when you need it.
Being located in Manchester, we are in a prime location as a cosmetic surgery hub for the North of England and North Wales. Many of our patients attend our clinic from major cities; Liverpool, Chester, Blackpool, Bolton, Warrington, Burnley and many more.
Book Your Breast Reaugmentation Consultation Now
If you have suffered a bad experience with previous breast surgery, or have concerns about the breast implants currently inside of you; speak with us for more information on implant removal and reaugmentation.
We operate in complete confidence and in a pressure free environment so you can obtain all the facts and information you need before making an informed decision about what is right for you as an individual.
Our staff are just a phone call away to you starting your journey of regaining satisfaction and confidence in your boobs. Call today 0161 507 8822.