What Is Facial Liposuction?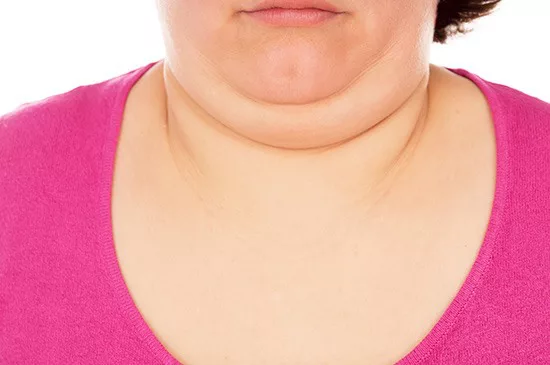 Facial liposuction, also referred to as double chin lipo is a cosmetic surgery treatment that is designed to remove excess fat from areas of the face, such as jowls and chin.
The procedure is designed to bring definition back to the face that has been lost over the years due to ageing or weight gain/loss.
With high success and patient satisfaction rates facial lipo has a reputation of getting rid of face weight that is difficult to remove through exercise and diet. The subtle nature of the treatment brings improvements that meet the expectations and goals of the patient.
It can be used on the neck, jaw, chin and cheeks with multiple areas being targeted at the same time, meaning one procedure appointment and one period of recovery / downtime.
Facial liposuction is a cosmetic procedure designed to remove excess fat from different areas of the face. Since people most commonly opt for it to get rid of a double chin, it's also often referred to as chin liposuction. However, this is just one aspect or type of facial liposuction. The procedure can also be performed on the neck and jowl area, as well as for buccal fat removal.
For the uninitiated, buccal fat refers to the fat pads between the bones of the jaw and cheeks that help define the shape of your face. A buccal fat removal surgery removes excess fat from this area to highlight the facial bone structure. It is also sometimes referred to as cheek reduction. Get in touch with us to learn more about the procedure and cost of buccal fat removal in Manchester or to know if you are a viable candidate for it.
Why Choose Facial Liposuction?
Facial liposuction is a revolutionary 'sculpting' treatment, also called liposculpture, that has become increasingly more popular in the past five years.
Male and female patients up and down the country from Bolton, Manchester and Liverpool to Birmingham and London are choosing Vaser liposuction as their 'goto' treatment for eliminating stubborn fat.
If you feel that you have developed an area on your face that you are unhappy with, such as excess skin or fat, then you are not alone. Many people struggle to get rid of certain fatty deposits from areas such as their 'double chin' or sagging jowls.
However, it is important to remember that liposuction is not a replacement for healthy eating or exercise and should only be performed on patients that are not obese. This is because removing fat from a severely overweight person will leave behind a disproportionate appearance and will have little overall benefit to the surgeon or the patient.
Instead, only patients that are at a suitable stable weight should opt for facial lipo to ensure maximum benefit and results. Vaser is often used for isolated areas on people who have realistic goals and expectations.
Advantages Of Facial Liposuction
There are many advantages of facial liposuction that contribute to the procedure having a high success rate and excellent patient satisfaction.
The benefits include;
Firmer and more toned looking skin.
Thinner and more defined facial features.
Removal of stubborn fat that is difficult to lose through dieting or active lifestyle.
Minimal discomfort and side effects due to small incisions with less risk of infection.
Immediately visible results that continue to show up to six months post procedure.
Short period of downtime, which means you can go about your daily business within a few days or in 24 hours in some cases.
Low associated pain, which can be managed through painkillers and ice.
If you are considering liposuction on any area of your face and are based in or around Manchester, contact a Vaser specialist today to arrange a no obligation consultation and see how the procedure can benefit you.
About Facial Liposuction
Facial liposuction is commonly labelled as Vaser lipo or 'Vaser Facelift' and is a high-tech, advanced cosmetic treatment for people who struggle with undefined facial features or excess fat that is stubborn and hard to shift.
The procedure is a minimally invasive face contouring treatment that is performed using local anaesthetic and does not require an overnight stay in hospital or long periods of downtime.
Being able to walk away within a couple of hours is very appealing to patients who undergo this procedure, which uses advanced ultrasound energy to break down stubborn fat cells in the face so that they can be removed through a thin tube.
Liposuction over the last 10 to 15 years has made magnificent advances in technology and sophistication and today is much more minimally invasive than years ago – allowing targeted fat removal with precision medical equipment.
To carry out a facial lipo procedure, a specialist Vaser expert will use a combination of injected fluid (which reduces swelling), very small incisions, a probe (ultrasound) and thin tube (liposuction). The energy liquefies the fat in the face and chin so that it can be sucked out – bringing definition to the face and reducing hanging jowls and eliminating the double chin appearance.
The entire procedure typically takes between one to two hours.
Results
With a fantastic team of Vaser lipo experts, we guarantee the best facial liposuction results. Take a look at some double chin liposuction before and after pictures to get an idea: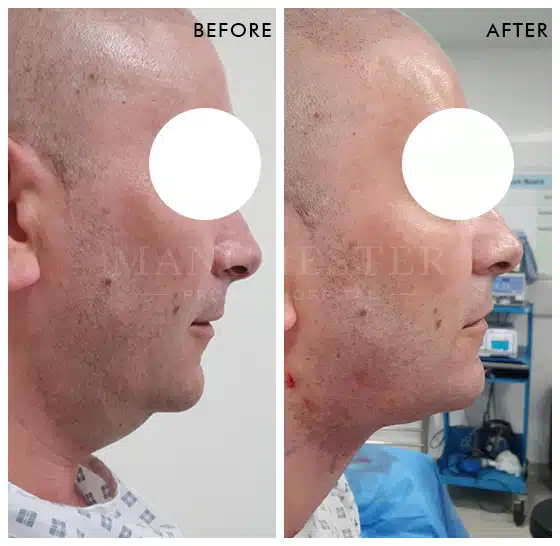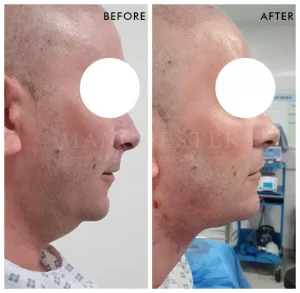 As Vaser lipo experts, we have been treating many patients with fantastic results that are visible instantly and continue to show as your face heals post-procedure. Our staff are highly skilled and use techniques designed to keep you on your feet with minimum downtime and as little discomfort as possible.
Facial Liposuction Aftercare / Recovery
After undergoing a facial liposuction procedure, patients are expected to rest and take it easy despite the treatment being known for being minimally invasive.
Anaesthetic usually wears off within a few hours and you can return home the same day as your procedure.
Discomfort and swelling can be present after your cosmetic procedure and due to the facial changes, the skin on your chin and neck may feel tight or bruised.
Your surgeon will often apply ointment that is antibiotic to the areas where incisions have been made. You will also receive a specific aftercare plan for taking care of yourself, including avoiding direct sunlight and excessive amounts of water for up to 3-5 days.
Following your surgery, it is recommended that you have a companion present to assist you in getting dressed (clothing garments over the head) and driving you home after discharge.
Your wounds will be checked within 7 days and you will be able to take part in light exercises after 5-10 days depending on the extent of your cosmetic lipo.
Side Effects / Complications
Although facial liposuction produces excellent results with high rates of patient satisfaction, there are certain side effects and complications that patients should be aware of. These include;
 A bruised, swollen or numb face
Infection
Thick scars
Haematoma
Anaesthetic allergic reaction
Pain or discomfort
Asymmetric results
Why Us For Facial Liposuction?
At the Manchester Private Hospital, our staff have years of experience carrying out facial liposuction procedures.
We have the knowledge and expertise to produce fantastic results that not only removes fat deposits from problem areas of the face, but to sculpt the target areas to provide more definition and firmness.
Whilst suctioning out fat to decrease the size of the chin, cheeks or jowls is the number one priority, it is important to leave the correct amount of fat so that it does not give an abnormal look. Our skilled surgeons know exactly how and where to remove fat from to produce the results you desire.
What's more is, liposuction procedures can be combined with other treatments to enhance your face and boost your self confidence.
Book Your Facial Liposuction Now With Confidence
Booking a facial liposuction consultation now is the first step on your journey to a slimmer, more defined looking face without major surgery or long periods of downtime.
Whether you are based in Manchester or further afield, our clinic is conveniently located to transport links, making it possible to travel by car, public transport or on foot to and from your facial lipo consultation.
The staff at Manchester Private Hospital are trained in facial liposuction and understand that discussing your complaints and insecurities is done so with respect and in confidence, allowing you to make an informed decision in a pressure-free environment.
Call today on 0161 507 8822 to talk more about how you can get rid of that stubborn double chin, droopy jowls or problem eye bags with facial liposuction.