What Is A Mole?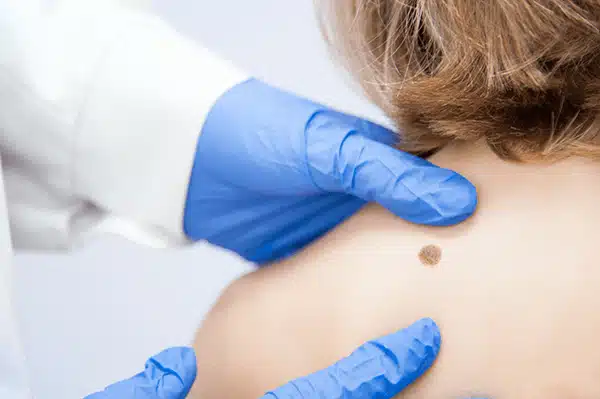 A mole is a coloured spot on your skin that is usually small and harmless. Moles are not usually cause for concern unless you notice a change, such as the colour, shape or size.
There are different types of moles and most harmless ones are oval shaped with a smooth edge. A mole can either be raised off the surface of your skin or flat.
Sometimes a mole may feel rough or smooth to the touch and can have hairs growing out of it.
The general advice on moles is to only see a specialist if it has changed in some way. However, there is nothing stopping you from seeking advice on moles at any time to help put your mind at rest.
Common Mole Behaviour
It is common for a mole to fade as you get older. Some may even disappear all together.
If you are pregnant, you may notice that a mole appears darker. Whilst in other circumstances this may be alarming, it can be common during pregnancy. However, it is always worth getting a mole checked if you have any doubts or concerns.
If you are worried about your child's moles, it is worth noting that a new baby can be born with moles on their skin and new ones can appear all the time from birth to teenage years.
When To Seek Advice
Although there is no ultimate formula for recognising a potentially harmful mole, there are some simple guidelines that you can follow and watch out for.
You can contact a specialist if you:
Notice a change in mole shape or unevenness.
Notice a mole getting bigger or appearing more raised off the surface of your skin.
Observe the colour of a mole and think it has more than two colours.
Feel like a mole is itchy, flaking, bleeding or crusty.
Changes in a mole can happen over a couple of weeks or months. If you are worried about a mole but aren't sure whether it has changed, air on the side of caution and get it professionally looked at.
Aftercare And Recovery
Aftercare and recovery after having a mole removed is minimal, depending on the procedure and size of the mole.
All patients usually return home the same day and if you have had a mole removed by excision will be dressed accordingly with suitable bandages / plasters.
You will receive advice and guidance on what you can and can't do following a procedure. Most patients return to normal activities straight away – providing the mole has not been removed from a sensitive area.
You should take it easy for a few days and may be required to return to the clinic to have your wound checked and dressings changed.
However, if your mole has been removed by laser then this will not be necessary.
If a mole or lesion has been removed from your face, then you will be asked to avoid using heavy face creams or make-up for a few days.
Types Of Mole Removal
Cosmetic Mole Removal
A mole does not have to be harmful for it to be removed. Anyone can have a mole removed and it is a very common procedure that can be carried out with minimal downtime.
Often moles can be a sensitive subject if they are in a prominent position and can cause anxiety and other emotional feelings such as making you self conscious and lack self esteem.
Removing a mole can be done in a number of ways, including excision, shaving and laser removal.
Speaking with a mole specialist will allow you to see what procedure is best for you depending on the shape and size of the mole.
Our experienced consultants specialise in cosmetically removing moles from your skin, along with skin tags, warts and cysts.
At the Manchester Private Hospital, we offer multiple removal methods that can be completed within half an hour and using only local anaesthetic.
Common areas of the body that people suffer with unsightly moles include; nose, face, eyelids, hands and legs.
If you are considering having a mole removed, speak with a member of our team today you can advise you on the best cause of action and the first step you need to take. We understand that some moles can cause distress and feelings of self consciousness and offer the highest standard of confidentiality in a pressure-free environment.
Laser Mole Removal
With advances in technology, laser mole removal has revolutionised the cosmetic industry to make it more convenient and aesthetically pleasing than in previous years.
Moles no longer have to be cut out or shaved in order to remove them, providing that they are not malignant (melanoma). Meaning that there is no or little scarring left behind.
There are many advantages to having a mole, skin tag or cyst removed by laser, including:
Remove moles without scarring
Precise treatment on the area to be removed
No need for general anaesthetic
Can remove multiple moles, skin tags and cysts during one session
Minimal downtime
Affordable and effective procedure
Suitable on most areas of the body
Results
Results of mole removal procedures are immediate and after your treatment the skin should be smooth and free from any trace of the mole.
At the Manchester Private Hospital, our consultants are skilled and experienced in all types of removal for moles, warts, cysts and skin tags.
So if you feel a particular mole is causing you inconvenience or is unsightly, speak with a friendly member of our team to see if you can benefit on 0161 507 8822