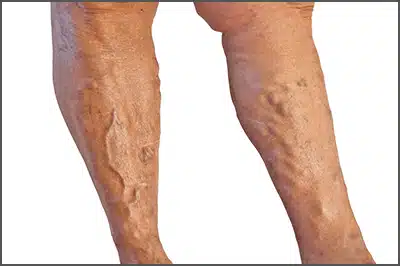 For patients who suffer with varicose veins, there are many treatment options available to combat the problem area. Available treatments are both surgical and non-surgical.
Depending on the severity of your varicose veins and how bothersome they are, your specialist can advise and discuss your options on an individual basis and help you identify whether or not you are an ideal candidate for vein surgery.
Surgical vein removal
Varicose vein surgery often involves removing the problematic vein completely.
Whilst this can sometimes sound daunting, it is a common procedure that does not affect the blood flow around the body or to the heart. This is because the blood flows through alternative veins instead.
The procedure to remove a varicose vein is performed under general anaesthetic.
You will be put to sleep whilst your surgeon fully removes the problem vein. If you have an issue with general anaesthetic, other options are available, which can be discussed in your consultation.
Surgery tends to take up to one hour and is performed by making an incision at the back of the knee or in the groin.
If the complete vein is being fully removed from the leg for example, multiple incisions will be required. These small cuts leave minimal scarring and are closed with stitches during the end of the surgical procedure.
Following surgery, legs are wrapped in bandages to reduce any bleeding and apply pressure. This also helps keep bruising to a minimum.
Varicose vein surgery is usually done as a day patient procedure and patients can return home the same day. In some circumstances, an overnight stay in hospital may be required, which your surgeon will advise you on.
Removing varicose veins is commonly performed using a surgical technique known as ligation and stripping.
The problem veins are tied off and then removed. This is done by making small incisions in the leg by the groin and further down by the knee. Incisions are usually no larger than 2 inches and do not leave much scarring.
Endovenous laser treatment
This method of treatment is carried out using a laser tube, which inserts in to the problem vein through a small incision.
The laser then heats up the inside of the vein, which makes it close over.
Endovenous laser procedures are usually carried out using local anaesthetic, rather than the more intense surgery treatment that requires general anaesthetic.
The area containing the varicose vein becomes numb so patients do not feel pain and the procedure takes up to one hour per treatment.
Following the laser probe treatment, patients are required to stay as an outpatient for up to three hours to be observed then will be able to return home. For up to 2 weeks after the treatment, patients may be required to wear bandages for support at home.
Sclerotherapy treatment
Sclerotherapy is a form of treatment whereby the varicose veins are injected with a chemical that forces it to close.
The vein becomes redundant and no longer functions as it used to. Therefore, no blood passes through it and the veins become less visible and do not bulge as much.
Support stockings are provided to patients and will need to be worn for up to six weeks post treatment.
This treatment method is only available on smaller varicose veins.
Radiofrequency ablation
Radiofrequency ablation is a medical procedure and technique used on varicose veins along with other parts of the body.
This treatment is similar to sclerotherapy in that it closes the vein. However, rather than using a chemical, the procedure uses medium frequency alternating current, which collapses and seals shut the problem vein.
Once the vein shuts, other healthier veins are used to transfer blood around the body instead.
This procedure is also performed as an outpatient and patients return home the same day.