What Is Keratosis Removal?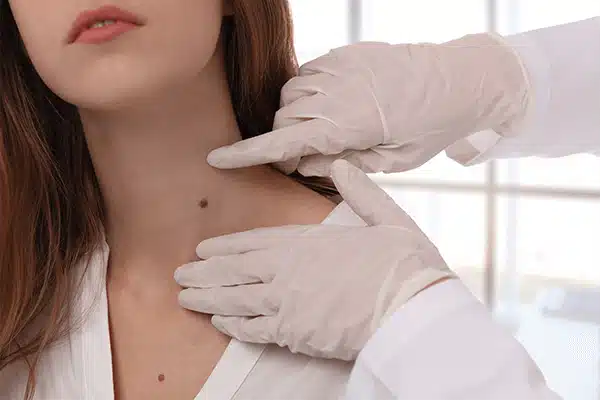 Keratosis, also categorised as Seborrheic Keratosis or Actinic Keratosis (aka solar Keratosis), is a type of skin growth that can be unsightly and make people feel very self conscious depending on the location.
Although Keratosis is considered benign, it can sometimes be difficult to tell the difference between Keratosis and melanoma.
If you suspect you have Keratosis, speaking with a medical professional should be the first step to take to confirm diagnosis. In most cases your doctor will be able to confirm by looking at it and identifying the type of skin growth you have.
Be sure not to pick, rub or scratch at the lesion as it can cause symptoms of bleeding, pain and itching.
Keratosis can appear at any location of the body and be an isolated case or part of multiple lesions. Common areas for Keratosis include; face, shoulder, stomach, chest, back and head.
These types of growth are typically oval or round in shape and may start small but grow larger over time. Keratosis feels rough to touch, is raised from the skin and have been described as a wart like growth with a waxy appearance that has been stuck on to the skin.
These types of growth are typically oval or round in shape and may start small but grow larger over time. Keratosis feels rough to touch, is raised from the skin and have been described as a wart like growth with a waxy appearance that has been stuck on to the skin.
Keratosis can run in the family and can appear on either men or women who are middle-aged or older. The growths are typically brown in colour but can also be black or yellow.
Why Choose Keratosis Removal?
When a person discovers a new growth or lesion on their body, it is common to feel worried or anxious. The first port of call with any changes on the skins surface (such as growth changes) should be to seek the advice of a medical professional. It is always better to be over cautious than to potentially ignore a serious condition.
Both men and women opt for Keratosis removal for a number of reasons including;
Reduce or eliminate anxiety connected to skin growths such as Keratosis
Stop symptoms caused by Keratosis, including itching or bleeding
Regain self confidence
Boost self esteem following the removal of unsightly growths
Stop Keratosis from catching on items of clothing or jewellery
Keratosis Removal Methods
Keratosis can be removed in a number of ways, including:
Cryosurgery, whereby the growth is frozen with liquid nitrogen.
Dermabrasion, using a handheld device to sand down the growth
Surgical removal, to cut out or shave the growth
Ablation, using laser treatment to burn away Keratosis
Following a consultation, your consultant or dermatologist will be able to advise on the best method of removal for you depending on the type and size of the growth. For example, some removal methods are better than others for large or raised Keratosis.
Keratosis Removal Aftercare
Removal procedures for Keratosis are generally considered minor and minimally invasive. Following the removal of a skin growth, the skin may appear lighter where the Keratosis used to be – this tends to fade over time and blends in with the surrounding skin tone.
Patients should avoid using tanning sunbeds and wear high factor sun-cream of SPF 30 or above.
Following your treatment, you will be able to go home straight away but you should proceed with caution for a few days. Avoid knocking the treated area and if you have had surgical removal; keep wounds clean and dry.
Depending on the size and location of your growth, you will receive a specific aftercare plan on how to care for your skin in the following weeks post treatment. In addition, you may be given a follow up appointment so that your surgeon can assess the healing process.
Side Effects Of Keratosis Removal
As with most minor cosmetic procedures, Keratosis removal comes with some potential side effects that all patients should be aware of.
Common side effects include; swelling, pain and inflammation but may vary depending on the treated area and size of Keratosis.
Side effects are mostly temporary, but where surgical removal has been used, a small scar may be visible afterwards.
Other side effects can include; itching, burning, redness and mild pain, which can be controlled with pain relief medication.
Rare complications can include; bleeding, raised scars, skin sensation changes and hypo/hyper-pigmentation.
Side effects should subside within a few days post treatment, but if you have any concerns do not hesitate to get in touch with your cosmetic surgeon or dermatologist.
Why Patients Choose The Manchester Private Hospital
The Manchester Private Hospital has been removing skin growths like Keratosis for many years.
Our specialist cosmetic surgeons and dermatologists are experts when it comes to skin related conditions that cause distress and anxiety.
We provide a pressure-free environment at all times and aim to put to rest the minds of patients when undergoing Keratosis removal. We take on board patients' concerns and can tailor a specific care plan that suits their condition, choices and lifestyle.
Book Your Keratosis Removal Procedure Today
If you have concerns about a skin growth, or have received a diagnosis for Keratosis, speak with our medical professionals today in a specialist consultation that will not only put your mind at rest, but allow you to make an informed decision about the type of removal procedure that suits you.
Our qualified cosmetic surgeons and dermatologists are able to remove unsightly skin growths quickly and effectively so you can get back to your daily life the same day. Most cases are treated as outpatients, meaning you can walk in to our clinic and walk out minus your skin growth.
Call today with confidence and speak to a friendly member of our team on 0161 507 8822 to arrange your consultation.