About The Labiaplasty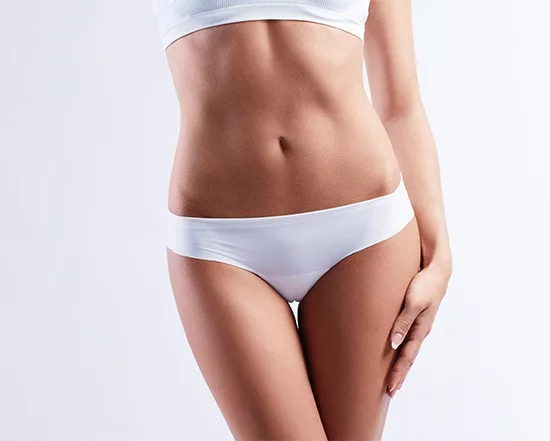 Labiaplasty is a cosmetic surgery procedure designed to reduce the size of the vaginal skin flaps at the opening of the vagina.
The treatment is also referred to as vulval surgery, labial reduction, a 'designer vagina' and vaginal rejuvenation, some of which are more common terms used by members of the public.
Women who are suitable candidates for labiaplasty usually have complaints regarding one or more areas of their genitalia, such as impairments, discomfort or aesthetic appearance.
Surgery typically targets two areas of the vagina; inner and outer lips, also known as labia minora – the two small inner folds and labia majora – outer folds running from above the clitoris to the perineum.
Labiaplasty is performed using either general anaesthetic or local anaesthetic and sedation. Generally the procedure takes one to two hours to perform.
Why Choose A Labiaplasty?
The lips of the vagina come in all shapes and sizes and can often change throughout a lifetime.
It is common for females to be born with naturally large vaginal flaps of skin as they grow, however, lifestyle, ageing, hormones and childbirth can also be factors in altering the way the labia looks.
If your vagina causes discomfort and there are no current known medical conditions, then it can sometimes cause distress and feelings of sadness as the discomfort is a constant reminder of an abnormally large vagina.
Discomfort can occur in particular when wearing items of clothing, including yoga pants, during sexual intercourse or exercising.
Aside from symptoms of discomfort, some women are generally unhappy with the appearance of their vagina because of excess skin, hanging lips or sagging, causing them to be self conscious and from time to time embarrassment.
This can negatively impact on the choices women make regarding life and relationship decisions, such as insisting on having the lights off during sexual intercourse or avoiding oral sex.
Labiaplasty can change the size and shape of your vagina to a more desired appearance by removing excess skin and tissue from the inner or outer lips, or both.
On occasion, the inner lips can hang lower than the outer lips and can cause women to feel self conscious, causing them to hide away or cover up the lower part of the body. This can be corrected with surgery so that the vagina is a more proportionate shape.
Furthermore, some women have asymmetric labia minora / majora, whereby one side hangs lower than the other. Again this can be corrected with labiaplasty.
Advantages Of Labiaplasty
For women who are considering labiaplasty, it is important to understand the difference between cosmetic labiaplasty and reconstructive surgery. Cosmetic labiaplasty applies only to the aesthetic appearance of the vagina, whereas reconstructive refers to the function of the vagina.
The term 'designer vagina' was coined by the general public and mainstream media following a surge in celebrities undergoing labiaplasty to achieve the 'perfect looking vagina'
However, almost all vaginas are as unique as the person themselves and there is no set standard as to how it should look. Instead, cosmetic surgery on your vagina is personal preference and each female usually has their own ideas of what they want from surgery, including reduced lip size and a 'vaginal facelift'.
Advantages of labiaplasty include:
Reduce the size of the labia minora (inner skin flaps)
Reduce the size of the labia majora (outer skin flaps)
Make the vagina look symmetrical (where one side hangs lower than the other)
Many women who have undergone labiaplasty also found that it boosted their self confidence and in some cases improved their sex drive by eliminating body conscious issues such as a 'baggy vagina'.
Results
The results of labiaplasty can vary. However, each woman usually has their own needs and goals what they want to achieve from their cosmetic procedure. Labiaplasty has a high success rate and high patient satisfaction rate – allowing women to discuss with their surgeon how they want their vagina to look. Results of cosmetic labiaplasty can be viewed immediately. However, there may be some swelling or bruising that will subside after a few weeks as results continue to show.
Aftercare / Recovery
When you discuss labiaplasty during your consultation with your surgeon, you will be given detailed instructions of your aftercare plan. Often aftercare plans are tailored to your individual needs depending on the type and extent of your surgery.
Having this in place before your procedure gives you peace of mind and makes you feel at ease when they day of your surgery comes.
Each labiaplasty clinic usually sets out their own guidance on things all patients should know, including downtime, driving information and exercise. Below is an outline of the general guidance you will need to follow:
Depending on the type of work you do (office based, active, strenuous) you will need between two and five days off work.
It is important to rest and take it easy for 2 weeks following your operation.
Avoid exercising and heavy lifting for 10-14 days.
Light exercise such as walking can be introduced after a fortnight.
Symptoms and side effects should start to subside within 4 weeks and regular activities can resume as long as your body feels up to it.
Following your surgery, you will be given a follow up appointment so that your vagina can be inspected after the healing process. This tends to be around 2 weeks post surgery and will allow you to ask any further questions relating to recovery and the next steps of your aftercare.
Side Effects / Complications
Labiaplasty surgery comes with some risk, side effects and potential complications. Following your procedure it is important to listen to your body and watch for any changes.
Common side effects include:
Swelling
Bruising
Discomfort / pain
Rare complications include:
Bleeding
Infection
Heavy scarring
Desensitised genitals
Blood clot
Why Manchester Private Hospital For Labiaplasty?
Whatever location you are from, at the Manchester Private Hospital we treat every patient with personable, individual attention and care you deserve. We understand the sensitivity around the subject of vaginal surgery and encourage women to speak in confidence with our trained and approachable staff.
From your initial consultation through to procedure and recovery, we operate in a state of the art pressure-free environment allowing you to take the time you need to make informed decisions and feel at ease every step of the way.
Our highly skilled and qualified cosmetic surgeons have years of experience working with many patients and carrying out labiaplasty cosmetic surgery throughout the North West of England and the rest of the UK.
Book Your Labiaplasty Consultation With Confidence
Our professional and relaxed hospital clinic welcomes patients from all locations in England, Scotland, Wales and NI.
We have a dedicated team of health professionals and cosmetic surgeons that specialise in a range of cosmetic procedures.
As part of MEDSU – the Medical Support Union – and regulated by the Care Quality Commission, the Manchester Private Hospital puts patient care at the heart of everything we do.
So if you are considering vaginal surgery but are in doubt whether the procedure is right for you, call our friendly and helpful team to book a no obligation quotation and start your journey to peace of mind and self confidence.
Consultation
Booking a consultation with Manchester Private Hospital will allow us to provide you with a professional medical opinion on surgery.
All of our patient consultations are based on a complete assessment of what you have in mind, your goals and personal criteria such as body type and age.
During your consultation you will receive clear and concise information about labiaplasty and if we think a particular idea you have may not be suitable, we will tell you up front and make you aware of what we are advising or an alternative procedure.