What Are Chin Implants?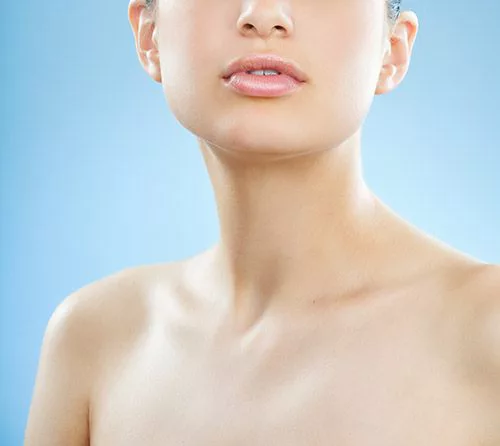 Chin implants, also known as chin augmentation surgery, is the surgical enhancement of a male or female face using implants.
The aim of the surgery is to alter the lower facial structure to provide a more aesthetically pleasing appearance that meets the desires of the patient.
During surgery, the chin can be altered in order to improve contour and balance the height and roundness of the chin in proportion to the rest of the face. Common requests for this type of surgery is to provide more projection to the chin and create a more defined jawline.
Chin implants can be used solely on their own, or in combination with other cosmetic procedures to create a more balanced overall facial contour.
Augmentation of the chin is sometimes performed in conjunction with rhinoplasty to not only make facial features more proportionate, but to create a more desired side profile silhouette.
A specialist maxillofacial cosmetic surgeon is able to perform surgery by making an incision inside the bottom lip or under the chin so that the implant can be placed in a space (pocket).
The most common type of chin implant is made from silicone, which is flexible and soft, and is placed inside the pocket within the chin.
Chin augmentation is sometimes mistaken for genioplasty, which is the medical term for jawbone reshaping with or without the additional use of implants.
Why Choose Chin Augmentation?
Some people feel they have a recessed or receding chin that creates a weak contour. In turn this sometimes makes the face lack proportion and can negatively impact self confidence and self esteem.
As the chin is such a defining feature, often seen as the pinnacle of facial features, patients can feel unhappy and anxious about attractiveness and are constantly doubting their appearance, particularly from the side profile.
Chin implants can be beneficial for ideal candidates because they can:
Correct a weak side profile
Add volume to a recessed / receding chin
Improve the overall proportion of the face
Reduce the appearance of a double chin
Boost self confidence and self esteem
At the Manchester Private Hospital, we understand that each patient often has their own reasons for considering chin implants. If you feel you are a candidate for surgery, speak with a specialist for a consultation and assessment.
About Chin Implant Surgery
Cosmetic chin enhancements are performed under general anaesthetic and as an outpatient – meaning you can return home the same day.
The entire procedure takes around one hour to perform, but may be longer if combined with other procedures.
After an incision is made, the tissue within the chin is stretched in order to create the pocket where the implant is inserted. Incisions are then stitched and will heal with no visible scarring due to the careful placement of the incision.
Chin Implant Aftercare & Recovery
Following chin implant surgery, your cosmetic surgeon will apply a dressing to the treated area. You should keep the dressing on for up to four days. During this time you may experience some sensitivity and tenderness along with mild discomfort. All of which can be eased with the use of pain relief medication.
When you return home, you may be asked to follow a special diet involving liquids as chewing may cause discomfort. Following this for up to 5 days will also be beneficial in the healing process so that you can get the most out of your procedure. In the immediate recovery phase it is normal for patients to feel a tight sensation and feeling as though the chin has been stretched. This should subside within 5-7 days.
After your chin surgery, you will be discharged with an aftercare plan that you will be required to follow for up to two months post treatment. Rest and take it easy for up to 10 days and take as much time off work as you feel you need. Although patients typically return to work after one week. It is normal to experience swelling, which should subside after 4 to 6 weeks. During this time it is advised that you avoid strenuous exercise.
Each patient case is individual and aftercare may vary depending on the extent of your chin procedure. You should listen to your body and contact your cosmetic surgeon's clinic if you have any concerns.
Side Effects & Complications Of Chin Augmentation
Chin augmentation is considered a very safe cosmetic procedure. However, there are some side effects and complications that you should be aware of, including:
Swelling
Pain or discomfort
Feeling of tightness
Loss of skin sensation
Infection
Bleeding
Scarring
Asymmetry
Implant movement
To minimise the risk of side effects, always ensure you are comfortable with the cosmetic surgeon who will perform your surgery. It is also advised to ask for portfolio photos of past patients who have undergone chin implant surgery so that you can see the exact results the surgeon has produced. A qualified and experienced chin surgeon will be able to meet your expectations and goals as opposed to a surgeon with little experience in this area.
Why Us For Chin Implants?
For many years, the team at the Manchester Private Hospital have been dedicated to providing the very best cosmetic surgery procedures in the North West. We put patient care at the heart of every chin augmentation procedure we perform to ensure you are comfortable every step of the way.
With vast amounts of industry knowledge and experience, we are able to meet the goals and expectations of our patients in a safe, state of the art environment with an emphasis on excellent aftercare.
Every patient we treat is treated with respect, dignity and in confidence. Our team are personable and understand the sensitive nature of cosmetic chin surgery. Our ethical approach and high standards has resulted in our reputation spanning far and wide throughout the UK.
Book Your Chin Augmentation With Confidence
Whether it is solely chin implants you are looking for, or a combination of surgical facial procedures, we provide a tailored plan and strategy to ensure you get the realistic results you desire.
We regularly perform chin surgery in conjunction with other facial procedures including; liposuction, face/neck lift, rhinoplasty and jaw surgery.
Call today on 0161 507 8822 to discuss your expectations with a qualified clinician who will also be able to advise on the steps you need to take on your journey to a more aesthetically pleasing face.