What Is Blepharoplasty?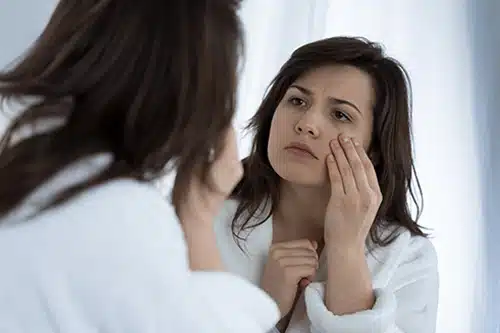 Blepharoplasty is better known as eyelid surgery.
It is a cosmetic procedure that is designed to remove excess skin or fat from eyelids.
People with eyelids that droop, sag, or appear 'hooded' often undergo blepharoplasty.
It is a procedure that is performed under general anaesthetic or under local anaesthetic with sedation, depending on the extent of the operation.Loose skin on the eyelid creates folds that give the impression of heaviness, whereas loose skin under the eye creates bags making one look permanently tired. With blepharoplasty, the eyelid, the eye bag or both, can be operated upon at one time to give more youthful appearance to your eyes.
If you are considering eyelid surgery, you can discuss your needs and goals with a professional eye cosmetic surgeon, who will be able to advise what is best for you.
Blepharoplasty is often performed with a scalpel, but can also be carried out with laser technology.
Eyelid surgery can be performed on either the upper or lower eyelid, or both. The ultimate goal with blepharoplasty is to restore the look and function of the eyelid by removing excess skin.
The procedure can also smooth out and tighten the lower eyelid, which gives a smoother look between the eyelid and the cheek.
Why Choose Eyelid Surgery?
There are a number of reasons why both men and women choose to have eyelid surgery.
However, one of the most common reasons is ageing.
As we age, the muscles and skin in our face lose elasticity and become saggy.
Due the intricate nature of the eyelids and small surface area, sagging and looseness is much more noticeable.
Creases, lines, wrinkles and folds appear in both the upper and lower eyelids. This can make people feel insecure and self conscious.
In addition, when muscles under the skin begin to slacken with age, the fat that cushions the eye in its socket can bulge and appear baggy. Eye bags can run in the family and in some cases develop early in life.
If you feel that you may have inherited eye bags 'before your time' as a young adult, speak with one of our medical professionals for advice and guidance.
Patients often report that their eye bags appear worse when they first wake up. This can be due to fluid that settles in areas of the body where skin is more loose, such as the eyelids.
Because of this fluid build-up, any fold, line or bagginess can be amplified in the morning.
Drooping eyelids is often found in older generations. This is where folds of skin can gather in the eyelids and cause an overhang of eyelashes.
About Eyelid Procedures
Blepharoplasty surgery is most commonly performed under local anaesthetic.
Before opting for this procedure, it is important that you make your consultant aware of any medications you are currently taking, particularly blood thinners.
Surgery on the upper eyelids is carried out by a professional eye surgeon who will make an incision across the crease line of the eyelid, where a natural fold of skin is present.
Excess fat and / or muscle along with excess skin is then removed.
Intricate stitching of the incision then takes place to close the cut. Scars from healing are hidden in the natural eyelid crease or fold.
If you are having surgery on the lower eyelids, whilst not very dissimilar to the upper eyelid procedure, there are some differences.
An incision is made in one of two ways – either just inside of the eyelid, or below the lower eye lashes.
Excess fat is then removed from under the eye – also known as eye bags.
Unlike upper eyelid surgery, lower eyelid surgery does not always involve removing excess skin as it is the fat within the eye-bag that causes the issue.
In addition, sometimes the muscles and tendons of the eyelid will require some support following removal of excess fat.
'Suture strips' are used to give support to your eyelid post-surgery. Suture strips, or steri-Strips or a wound closure strip are designed to pull the skin on each side of the eyelid incision to minimise scarring.
Surgery for eyelids generally takes around one to two hours. Patients are usually not required to stay in hospital overnight and can return home the same day as the procedure.
Recovery
Following eyelid surgery, whether on the upper or lower eyelids will require time off work.
Your consultant will be able to advise how much time you need based on your individual circumstances. However, most patients take around 1 week off work to aid recovery.
Depending on your job, or how comfortable you feel, you may decide to have more than one week off.
The biggest implication of eyelid surgery is not being able to drive for approximately 3-5 days following your operation.
This means that you should be able to return to fairly normal business after this period.
However, it is strongly advised to avoid any activity that may be strenuous, such as heavy lifting, gym or swimming.
In addition, you should avoid smoking and do not wear contact lenses during immediate recovery.
Patients should expect to experience redness and bruising around the eyes for 2-3 weeks post surgery.
Scars may be more noticeable in the early days of recovery but will fade as time passes.
If possible, you will be advised not to rub your eyes or to keep any rubbing to a minimum.
Aftercare
When you arrange a consultation with one of our experts, you will be given a full recovery and aftercare plan that is tailored to your individual needs and circumstances. Aftercare varies from patient to patient depending on the surgery you are having, your age and face shape.
However, there are general aftercare procedures that you will be advised to following, such as:
Gentle cleaning of your eyelids on a regular basis. This is done with eye drops or ointment that will be supplied to you.
Wearing sunglasses to protect and shield your eyes from wind, dust and sun.
Taking prescribed painkillers, such as paracetamol, to ease any pain you feel. Although many patients report little to mild pain post eyelid surgery.
Holding a cold pack on your eyes.
Propping your head up when resting will reduce swelling.
Complications & Side Effects
As with all surgical procedures, cosmetic surgery on the eyelids comes with a list of potential complications and side effects that patients should be aware of.
Whilst your consultant will outline the risks and complications in your consultation, here are some common side effects and rare complications:
Do not be alarmed if your eyelids feel numb after surgery, this, along with puffiness, is a common side effect and while your eyelids may difficult to close at night, will ease in the days following your procedure.
Sometimes eyes can feel sensitive and irritated. Eyes may also water regularly. This can last for 1-3 weeks.
Bruising is common and may look like you have a black-eye.
Following your procedure, new scars may be pink and more noticeable, but these will fade over the coming weeks.
More serious, but rare complications can include:
Blurred vision on a temporary basis.
Eyes that look asymmetrical.
Haematoma – a collection of blood underneath the skin. This often disappears after 2-3 weeks on its own.
Noticeable scars.
Eye muscle injury.
Ectropion – whereby the lower eyelid can droop outwards away from the eye.
Eyelid retraction – lower eyelid pulls down, revealing the white of the eye.
Blindness (extremely rare).
Why Choose Us For Eyelid Surgery?
At Manchester Private Hospital, we prides ourselves on displaying a high level of professionalism at every stage in your procedure.
From initial consultation to aftercare, we will ensure your journey to better eyes is as stress-free as possible with peace of mind and patient care at the top of our priorities.
When patients contact our clinic, they can speak with our highly skilled surgeons who will provide a tailored plan that is unique as each individual.
We understand the anxiety related to any surgical procedure. That is why we aim to put patients health and well-being first.
With years of experience carrying out blepharoplasty procedures, you can be sure you are in safe hands and in a pressure-free environment.
So if you are looking to boost your self-confidence and regain a more youthful look, why not book a consultation today and speak with one of our eye surgery experts? We have been provide upper and lower eyelid procedures in Manchester and major surrounding areas, including; Liverpool, Stockport, Bolton, Bury, Rochdale, Warrington and beyond.