What Is A Wart?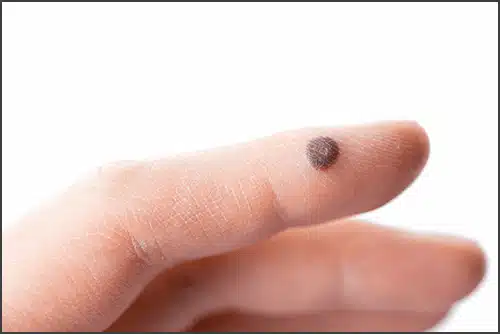 A wart is a small growth on the surface of the skin that many people experience at some point in their lifetime.
The growths are usually rough and can appear anywhere on the body, but more commonly on the hands, feet and knees.
Warts on the bottom of your feet or heels are called plantar warts, also known as a verruca.
Warts are caused by HPV – the human papilloma virus – and generally come in four types:
Common Wart: These warts are skin coloured lumps generally found on your hands and knees and range in size from 1mm to 10mm. Common warts are identified by their rough cauliflower like appearance and are usually firm, round and raised off the surface of the skin.
Flat Wart: These warts are usually yellow coloured and are generally found on the neck, face, legs and backs of hands. You can identify flat warts by their flat (or slightly raised) appearance and are smooth to touch. Sometimes flat warts appear as a single wart or in a cluster.
Plantar Wart: These warts, more commonly known as felucca's, are skin or yellow coloured with black dots in the middle. They can vary in size and are sometimes painful to touch with pressure or to stand on. A verruca can be flat or raised from the skin and usually appear on their own, but can come in multiples that fuse together and become mosaic warts.
Genital Wart: These warts are the most common STI (sexually transmitted infection) in England. They are caused by different types of the human papilloma virus and cannot be treated in the same way as the other three types of wart. If you suspect you may have genital warts, it is important to visit a STI clinic and not to use off the shelf wart treatments.
Why Have A Wart Removed?
In many patient cases, warts do not cause any serious harm but may come with symptoms such as pain or itching.
Depending on the location of the wart, it can be unsightly and cause low self esteem, low self confidence and embarrassment.
There are many advantages to having a wart removed professionally, including:
Restore smooth skin with little or no scarring
Remove unsightly warts quickly and effectively
Quick turnaround to permanently remove warts
Low cost affordable treatment
Stops warts spreading or returning
Wart Removal Methods
Having a wart removed takes around 30 minutes and can be done under local anaesthetic. There are a number of methods that can be used to remove a wart, including:
Laser wart removal: The wart is removed using precision laser light energy, which targets the blood vessels so that the blood supply is cut off. The wart then dies and falls off after a couple of weeks. It feels similar to an elastic band flicking your skin and the HPV may also be treated by the laser.
Excision wart removal: The wart is removed by a surgeon using a scalpel, which snips or shaves the wart.
Crytherapy: The wart is frozen with liquid nitrogen using a needle to inject it deep enough to kill the wart. A blister may form underneath the wart before it falls off.
Electrosurgery: The wart is burned off with an electric current after being cut with a scalpel. This method is more commonly used on larger warts.
Some warts may clear up on their own, although after noticing a wart it can take up to two years. Warts in adults take much longer to clear than in children.
To stop warts from spreading you should avoid touching them as the virus can spread to other parts of the body and be transferred between friends and family.
Avoid sharing clothing if you have a wart and do not use the same towel as a family member. If you have a wart on your hand or finger do not bite or suck your fingernails as this can spread the virus. If you suffer with a plantar wart always wear shoes in public places.
If you are unsure which wart removal method is best for you, arrange a consultation and have the wart assessed by a wart and lesion expert.
Wart Removal Aftercare
In the majority of cases, cosmetic wart removal is performed within half an hour using local anaesthetic. It is known for being minimally invasive and having low downtime.
Immediately following your procedure, you may be checked over by a medical professional to ensure you are feeling well after the anaesthetic. In most cases, patients can walk out of the clinic within a couple of hours and drive home. However, it is worth having a companion with you incase you need a lift home and are unable to drive.
Depending on the area of wart removal, type of wart and method of removal, your aftercare and recovery plan may vary. Speak with the team of staff to see what is recommended for your individual circumstances and whether or not you can return to normal activities.
For some removal methods, you may be required to keep a bandage on the treated area for up to 2 weeks and your clinician will advise on whether you will need repeat treatments as part of your procedure.
Typically the maximum rest time for patients following wart removal is three days. However, you should listen to your body and be a sensible judge of health and mood.
For example, patients who have a wart removed from their hand can walk out of the clinic, drive back to work and continue as normal, whereas facial wart removal may require one day or more off work and rest time at home depending on how you feel.
Why Us For Wart Removal?
When it comes to removing warts safely and effectively, our team of qualified lesion and wart experts have the knowledge and experience to successfully remove your problematic warts permanently.
Many people who suffer with warts often try over the counter removal remedies without success.
Our quick, affordable and relatively pain-free removal methods mean you can get back to going about your business with peace of mind. Whether it is a wart on the foot, finger, knee or face, our cosmetic surgeons are able to precisely remove warts and restore your skin to a flawless finish.
At the Manchester Private Hospital our pricing structure is completely transparent with no hidden charges and our aftercare guidance is included as standard.
Book Your Wart Removal Procedure Today
If you have a stubborn or unsightly wart that is causing you distress, don't delay and book your consultation today.
Warts can be removed within 30 minutes using local anaesthetic so you can give yourself confidence a boost and go about your daily activities wart free.
Our professional wart removal team are just a phone call away, so call now for a no obligation quotation on 0161 507 8822