What Are Dermal Fillers?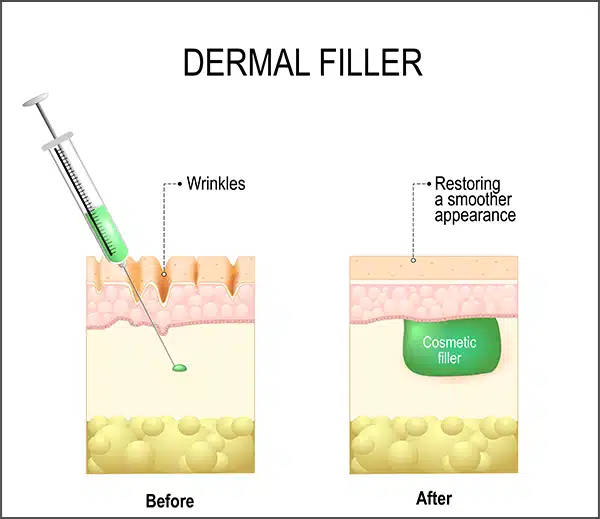 Dermal fillers, also known as lip and face fillers, are injectables of gel made up mostly of hylauronic acid designed to add volume to the soft tissue of your face and fill in wrinkles.
Procedures involving dermal fillers are minimally invasive and work by restoring volume that may be lost through ageing or other means. They can be injected into many parts of the face, including; lips, cheeks, jaw and around the eyes.
As people age, their bodies stop producing natural collagen, which contributes to looking youthful. Dermal fillers act as a replacement for this lost collagen and elastin to restore volume, lift and plump parts of the face.
Most dermal filler procedures take between 15 and 30 minutes to perform depending on the treatment area and can last between six and eighteen months.
Why Choose Dermal Fillers?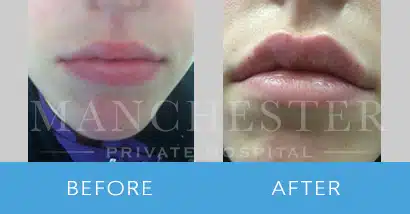 Dermal fillers have been used for many years on patients who are unhappy with a lack of volume in a particular part of their face, such as the lips. Both shallow and deep wrinkles can also be treated with injectable solution to make them less visible, including lines, creases and folds around the chin, cheeks, mouth and neck.
There are many benefits to having dermal fillers professionally injected, including:
– Natural looking results
– Subtle facial enhancements including smooth skin and youthful contours
– Add volume and plump sunken areas of the face
– No surgery required with minimally invasive nature
– Restore volume to thin lips
– Fill in wrinkles and make them less visible
– Improve acne scarring
– Decrease smoker and frown lines
If you are considering dermal fillers, be sure to speak with a dermal filler professional to discuss your individual expectations and goals. Fillers are safe when performed by a qualified and experienced cosmetic surgeon or nurse.
Dermal Filler Aftercare & Recovery
Dermal filler injections are minimally invasive and require minimal downtime.
Patients do not need to book time off work and can often return to work the same day or following day.
Regular activities and daily duties can be resumed as normal, such as house chores, attending the gym or socialising.
If you experience mild discomfort following your procedure, pain relief medication can be taken to ease symptoms.
Depending on the area of your dermal fillers, your medical nurse or surgeon may advise on using ice and gentle massage.
Side Effects / Complications
As with many cosmetic procedures, there are some side effects and complications that all patients should be aware of. These include:
– Bruising
– Swelling
– Allergic reaction
– Small bumps under the skin
– Dissatisfactory results
– Discolouration of the skin
– Itching or skin rash
– Asymmetry
Why Choose Manchester Private Hospital For Dermal Fillers?
Our team at the Manchester Private Hospital are qualified and board certified cosmetic surgeons and dermatologists. We have the knowledge and expertise to perform dermal fillers in a safe and proper manner in a clean and sterile environment.
Unlike some other dermal filler practitioners and beauticians, we have years of experience combined with the qualifications to get the best possible results.
We know where our products come from and exactly what they consist of to ensure that they meet the correct standards and comply with the law.
Book Your Dermal Filler Injections With Confidence
In many European countries, only qualified medical professionals can inject dermal fillers. However, in the UK there has been a rise in the number of salons and beauticians performing filler injections, often without much experience or a sterile environment.
Our state of the art hospital facilities provides peace of mind to all patients undergoing treatment in a safe environment and our staff put patient care at the heart of everything we do.
At the Manchester Private Hospital, we encourage people who are considering fillers to book a no obligation consultation with our team to see why it is not only safer and more professional, but with a team who understands exactly the anatomy of the face and lips.
Call today on 0161 507 8822