However, for people who have a mole in a prominent location (such as the nose, breasts or face) it can cause a great deal of stress and anxiety.
What's more is, it can greatly affect self confidence and self esteem – leading to everyday life changes, such as applying extra make-up or hiding the mole with clothing.
In light of this, one of the most popular cosmetic procedures in the UK is the removal of unsightly moles that are causing these problems.
Moles can be removed using a variety of methods, but the two most popular are; to cut out the mole or to remove it using laser technology.
Laser mole removal is a procedure that has grown in popularity in recent years due to its success rate, precise targeting and minimal downtime – leaving barely a trace after the recovery period.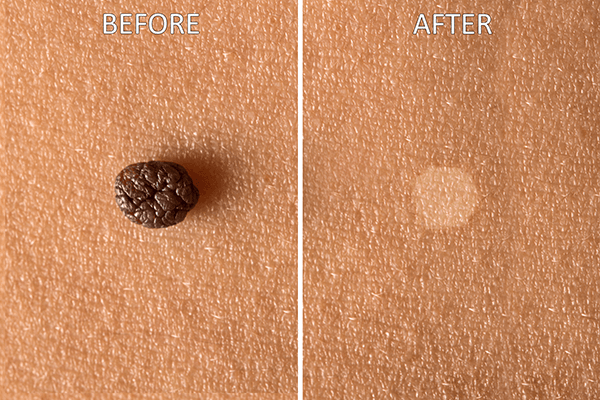 So what is laser mole removal and how does it work?
Here are answers to the most commonly asked questions regarding this revolutionary cosmetic treatment.
How are moles removed using a laser?
The treatment area is numbed using local anaesthetic to minimise discomfort.
Moles are vapourised using laser technology with minimal visible scarring left behind.
How Long Does It Take To Remove One Mole?
The procedure is very quick, taking approximately five to ten minutes per mole. Appointments for a single mole usually lasts around thirty minutes – this includes before and after discussion about the procedure and aftercare plan.
Does Laser Mole Removal Hurt?
The laser removal procedure is performed using local anaesthetic to numb the area. So no pain or discomfort is felt during the laser treatment.
How Long Is Recovery Time?
There is usually no downtime from the actual laser treatment. Healing time takes around two weeks. The mole should look like a pink, smooth circle once it has fully healed, which fades over a number of weeks post procedure.
What Can I Expect To See Afterwards?
In the minutes following the completion of a laser mole removal procedure there will be a red mark where the mole used to be. The area will be covered with a dressing and cream. Within 24 hours the dressing can be removed and the red mark will start to form a thin scab, which will drop off within days and leave a pink smooth mark.
Do I need time off work?
In most cases, time off work is not necessary. Laser mole removal has been compared to attending a dentist appointment and patients can return to work as normal the same or following day. If the mole has been removed from a prominent location, such as the nose or face, then people may see where the procedure has been performed.
Can I wear make-up?
It is advised that no make-up is worn on the area that has been treated for around two weeks, or until the scab has fell off.
Is laser mole removal better than excision?
Not all moles can be removed using a laser, however, for those that can then it is much more beneficial due to the invasive nature of the procedure. No skin is cut so there are no deep scars. Instead laser removal is compared to grazing the skin and leaving a pink mark after the wound has healed. In addition, due to the minimally invasiveness of laser removal there is less risk of infection compared with excision removal.
What moles can be removed using laser?
As mentioned above, not all moles can be removed using laser treatment. The ones that benefit most from laser treatment are those that are raised (bump) from the skin. Flat moles or very dark moles are not ideal for laser removal.
Can a biopsy be taken using laser?
No. Laser technology vapourises the mole so there are no samples taken or left behind for examination. If a biopsy is required then removal by excision is the recommended course of action.
Are lasers safe?
Lasers have been developed using the highest and most advanced technology in the industry. They are completely safe on the skin and the only safety precaution is that the patient needs to wear safety goggles during the treatment.