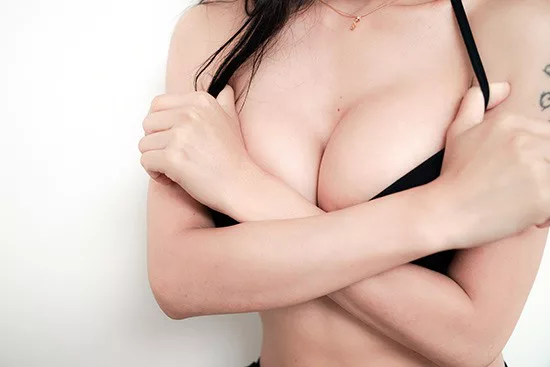 Ideal Candidates
The ideal patient for this procedure is an adult woman who is healthy and has sufficient breast skin and desires fuller, larger breasts. This procedure is commonly used by women who have recently undergone reduced breast volume after certain events like menopause, motherhood or significant weight loss.
If you become pregnant, your breasts may expand by as much as three cup sizes, stretching your skin and causing your breasts to look droopy or deflated once they resume their normal size. A breast lift and implants surgery can help.
I have gone through menopause. Can I have this procedure?
Following menopause, the breasts may change their shape. Declining estrogen levels can cause your body to begin distributing fat in a different way, shifting it from the breasts into the abdomen. Combined with skin elasticity changes, it can make one or more breasts appear more flat, particularly on top. A breast lift and implant surgery is a great way to help reverse these undesirable changes.
This cosmetic procedure can provide a lifting action in combination with the tightening of loose and sagging skin. Adding implants into this process is very helpful in restoring lost volume and rounding out the upper part of each breast.
Breast Lift and Implants Price
There is a great deal of variability in the price of this procedure. Consult with the surgeon who will be performing your procedure to determine how much it will cost.
What types of breast implants are available?
The two basic types of available breast implants contain saline and silicone. Saline breast implants are filled with sterilized salt water and have a silicone coating that enhances the size and shape of the breast. These implants are normally inserted without their inner fluid, which is added as needed to obtain the desired shape for the patient.
Silicone breast implants contain a silicone gel that is a close match to the feeling of human tissues. They differ somewhat from saline breast implants in that the breast will not lose size or shape in case of a rupture. If a rupture occurs, however, the breast implant will require removal.
Other Types of Breast Implants
Gummy Bear Implant: This type of implant is named this way because it will not have its shape altered if the upper layer breaks. Unlike other implants, they are normally firm, with specific sides designating top and bottom.
Round Implants: Women who receive these types of implants desire breasts that appear fuller since this procedure is normally for those who want breast enlargement. They do not have a specific side for top and bottom, but are round all over.
Smooth Implants: As the name indicates, smooth breast implants provide a smoother feeling. They are not stiff, resulting in more natural movement.
Textured Implants: Textured implants are known for being more fixed and stuck to surrounding tissues, so they will not move around as much inside of the breasts, as with some other implants.
Your Surgery
This combination cosmetic procedure takes as long as three hours to complete and is normally performed under general anesthesia. The type of incision required is dependent upon the amount of skin removal to achieve the desired lift. If only a minor amount is required, an incision can be created around the areola, whilst moderate tightening may involve an extra vertical incision to help with reshaping.
To make room for your breast implant, your cosmetic surgeon will form a pocket. They will place your new implant beneath the breast tissue, and the implant may need to be placed under the chest wall muscle. Finally, your surgeon will seal your incision using stitches, and tape, bandages, and gauze will be applied to provide support and help with healing.
Recovery
One of the key aspects of the procedure is breast lift and implants recovery. Following your procedure, your breast will be swollen, bruised, and uncomfortable for a few days, which can be reduced with the use of oral anti-inflammatories and pain relievers. In a day or two after your surgery, your bandages will be removed, and you will need to wear a sport bra for two to three weeks.
You may have drainage tubes inserted for a few days to remove excess fluid. Your stitches can be removed in a week or two. You may experience numbness and swelling for up to six weeks after your procedure.
Contact your cosmetic surgeon right away if you experience any complications following your surgery.
Combination Breast Lift and Implants FAQ
How much does this procedure cost?
When it comes to breast lift and augmentation cost UK patients should consult with the performing surgeon. Costs vary on an individual basis, depending upon factors like the size and type of implants that will be used.
What happens at a consultation?
At your breast lift with implants consultation, you will be meeting with a board-certified cosmetic surgeon to ensure that a lift and augmentation can help you achieve the results that you desire. It may help to bring along photos of how you would like to look after your procedure. You'll be asked to reveal your medical history, including any medicines or supplements that you are currently taking, as well as any past surgeries, relevant medical conditions, and the state of your general health.
Your cosmetic surgeon will provide an examination, measurement, and photographs of your breasts. They will go over your surgical options and develop a plan for your individual needs, based upon your body type and personal preferences. You will also discuss with your surgeon the type of implants that you desire and the size that you would like your breasts to be.