One being that the pressures of modern society and media coverage of celebrities who 'bounce back' in to pre-baby shape, gives off an impression that others look up to or aspire towards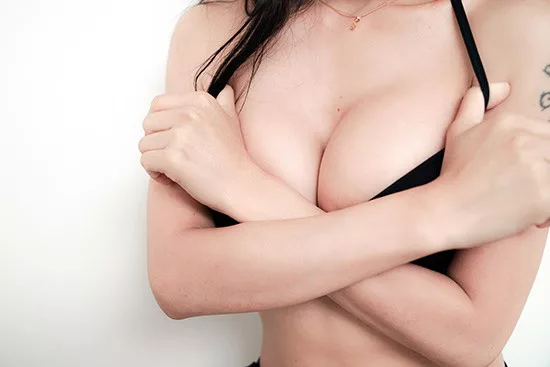 However, pregnancy is one of the biggest factors for change in a female's life whereby body shape and size are greatly affected. So it is understandable that whatever the reason, some women want to boost their self esteem and regain confidence.
Whilst it is possible for some women to look and feel as they did before, for many the reality is very different.
Breast Surgery – How Long Should You Wait After Pregnancy?
One of the biggest and most popular cosmetic procedures after pregnancy is uplift, also known as mastopexy, whereby excess skin is removed from each boob so that it can be lifted and, in some circumstances reshaped.
The minimum recommended time to wait after pregnancy before going under the knife for breast surgery is six months, but ideally a minimum of one year should have passed. This is because the body goes through drastic hormonal and physical natural changes that can continue to happen post-birth.
Following the delivery of your baby, depending on the type of delivery, your breasts can continue to change for many months afterwards and surgery is not advised until these changes have settled down and stabilised.
The duration is sometimes longer for women who breastfeed. If you are unsure, always consult a cosmetic surgery professional who specialises in post-pregnancy procedures. After all, surgery can be traumatic in itself on the body and recovery is required to ensure the best possible results and patient satisfaction.
What Are the Effects on the Breasts from pregnancy?
When women talk about pregnancy and giving birth, the topic of conversation usually involves the effects on the body.
Weight gain, hormonal changes and the general impact of carrying a baby for 9 months can take its toll. So how do the breasts change during this period and how does surgery help?
– Sagging
– Loss of volume
– Nipple / areola changes
– Position
– Shape
The first noticeable major side effect on the boobs from pregnancy post-birth is stretch marks.
During pregnancy the boobs usually increase in size and volume, which causes the skin to stretch and the breasts to hang lower. Naturally as the skin is stretched it loses elasticity and it is difficult for it to 'bounce back' after the breasts decrease in volume. Leaving behind what is commonly referred to as 'deflated balloons' or 'swinging pendulums'.
The second major side effect that women complain with is that the boobs continue to hang low despite losing their volume. This is caused by the ligaments and skin being stretched during the period of pregnancy.
All of these changes can have a negative impact on both emotional and physical state of women.
Post Pregnancy Uplift Without Augmentation
It is possible for cosmetic surgeons to perform uplift surgery without the use of implants, also known as augmentation. In fact, it is very common for women where size has never been an issue either before or after giving birth.
If you are considering an uplift, always do your research first and understand the procedure to the best of your knowledge before arranging a consultation. This will give you a deeper insight in to what is involved and what can be achieved.
Many cosmetic surgeons will be able to advise you on whether or not you are an ideal candidate for breast uplift after pregnancy and whether or not it will give you realistic results.
There are times when a surgeon may suggest waiting for a more optimum time or that your expectations are not realistic. It is important that you are able to fully understand your options. A common mistake many women make is rushing in to surgery and expecting a different outcome from what can be achieved. For example, to increase or regain the volume of your breasts, the use of implants may be required. This is because some desired looks cannot be achieved by uplift alone.
What Does Post Pregnancy Uplift Involve?
After giving birth to one or more children, you may decide to have an uplift procedure performed. If you are wondering what the procedure involves, below is a brief outline for information purposes:
– The breasts are raised to a desired position on the chest
– Excess skin is removed to reduce stretch marks
– Ligaments and some tissue may be removed in order to tighten the breasts and reduce sagging
Always ensure you fully research the surgery you are considering so that you better understand it. It will benefit both you and the cosmetic surgeon as you will both be 'on the same page' when it comes to your desired goals and realistic results. If, for any reason you have doubts or questions to ask, speak with a medical professional who specialises in breast uplift surgery for post-pregnant women.
Is it possible to undergo uplift and enlargement at the same time?
Enlarging the breasts at the same time as lifting them is a common combination cosmetic procedure after bearing children. This is because uplift is designed to raise the position of the breasts and augmentation is to increase volume.
However, before opting for cosmetic surgery, it is best to wait until you are sure you aren't going to have any more children, as it can feel as though you are undoing any achieved look from surgery as the body will go through another round of drastic changes.
What Locations Are Available?
When it comes to breast surgery, there are no limitations in terms of area or location. However, there are some points that you should consider to ensure that it is a viable option for you.
At the Manchester Private Hospital, we are ideally situated in the North West, close to many major cities with good access to transport links. We have patients coming from far and wide for breast uplift following pregnancy, including; Liverpool, Widnes, Birkenhead, Warrington, Chester, Blackpool and others.
However, as most surgical procedures of this nature require a minimum of one overnight stay in hospital, ensure you are able to make the necessary childcare arrangements, especially if you have recently given birth (6-12 months).
It is also important to note that travelling with a companion can offer support and help with immediate recovery, such as putting on clothes and driving you to and from your appointment.