Where To Start?
The first thing any person is advised to do when considering a boob job is research the procedure.
One of the reasons for this is because the phrase 'boob job' can be used to describe one or more cosmetic procedures on the breasts.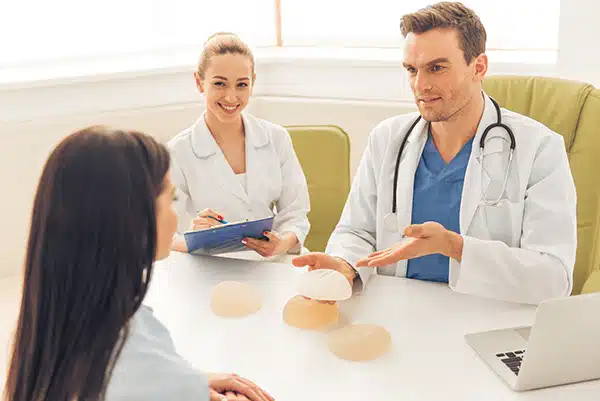 Many people think that a boob job applies only to enlargement, however, a boob job can include a combination of procedures such as breast enlargement + breast lift, nipple correction, breast reduction, fat transfer and breast reconstruction .
Researching the type of procedure you want will allow you to gain more knowledge on the subject and provide you with questions to ask an expert.
The First Step
Once you have carried out extensive research on boob jobs, you will no doubt have understood the procedure a lot more and also gained an idea of not only what you like the sound of, but also what will suit your needs best.
For example, if considering enlargement, also known as augmentation, this can be carried out in a number of ways; implant enlargement or fat transfer enlargement. There are also many decisions to be made for each, such as what type of implant, or where the fat will be taken from to be placed into the breasts.
The next step to take is to contact a boob job specialist to arrange a consultation.
A specialist will be able to listen to your ideas, carry out a full medical examination to check your health and provide you with advice and guidance.
The advice and guidance you should expect to receive will include individual possibilities of what is possible and what is not for your size, body type and health condition. In addition, you will also be made aware of what the realistic goals and results are that you can expect after your procedure.
An example of unrealistic results would be to try and enlarge your breasts larger than a few cup sizes, which does not stick within sensible parameters for your body shape.
Second and Third Steps
After making the decision to get a boob job, learning more about the procedure and receiving professional advice, the following steps are actually undergoing surgery and recovering from your procedure.
Depending on the extent of your single or multiple combined procedure, the duration of the surgery will vary.
Certain boob jobs can take anywhere from 30 minutes to a few hours to perform.
Additional time is added on for immediate recovery and aftercare.
The type of recovery and aftercare you receive should be within an accessible distance, especially in the event of complications and side effects.
For example, we are based in Manchester, which means we are perfectly located as a central hub for boob jobs in the North of England and North Wales.
Many patients travel up to 50+ miles from all over the North including; Blackpool, Derby, Crewe, Chester, Wirral, Liverpool and North Wales to visit our specialist boob job hospital
There are no limitations in terms of the patient locations we accept, however, you should be made aware of that often someone will need to assist / transport you to and from your procedure. So being within a reasonable distance can help.
In addition, check-ups and aftercare appointments will also need to be attended in a clinic, therefore travelling back and forth should be convenient for yourself and your chaperone.
After undergoing surgery, you will be expected to take it easy and give your body the time it needs to heal and recover.
This includes having time off work and resting.
Patients who love the gym may still be able to perform light exercise in the days following your procedure, but it is imperative that you check this with your specialist to ensure that what you are doing does not hinder or compromise the procedure and therefore negatively affect the results of your boob job.
If you have any doubts or unanswered questions relating to boob jobs, be it augmentation or fat transfer, contact us today on 0161 507 8822to speak with a friendly member of our team who will be able to answer your queries and eliminate any sticking points.
Our Location
Manchester Private Hospital is based in Salford, Greater Manchester, and the postcode for your sat-nav is M5 4HB. We are accessible to many locations in the North, just 30 miles from Liverpool, 50 miles from Blackpool, 80 miles from Derby, 40 miles from Crewe and Chester, and 15 miles from Warrington.