There are a number of factors that affect how your implants will look, from the type of implant used to the size of your natural breasts.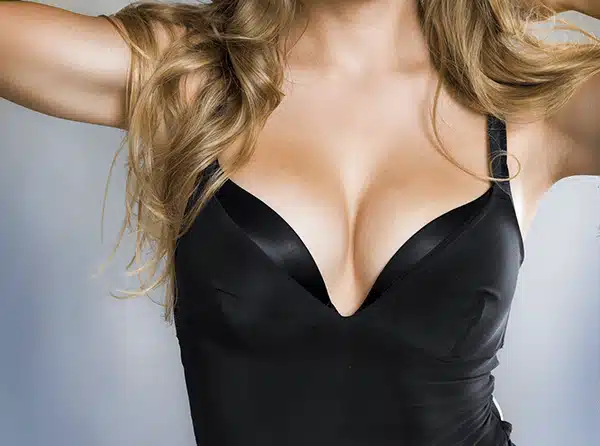 We'll look at this further below.
If you are thinking of enlarging your breasts, but are worried they won't look real you're not alone.
You are not the first to have this concern and you won't be the last.
The reality is, breast implants have changed dramatically over the years, along with the knowledge and experience required. So ensuring your new boobs look realistic is very possible. Overall, there are two core points when it comes to looking more natural, these include:
1.Implant size
2.Current breast size
If a woman has naturally small boobs, then the larger they try and go, the more fake they will look.
For example, if the breast tissue is currently a B-cup and they try to go to an F-cup, then this will be more of a dramatic change and may look more fake.
However, if you try and go 1 or 2 sizes bigger than your natural boob size, it will look more natural.
During a consultation with a professional cosmetic surgeon, these are all points that are considered and will be discussed.
If you have an idea of what you want, your consultant will also be able to provide expert advice on what is more likely to suit you in looking more natural.
Other factors that affect how natural breast augmentation can look are:
-Implant placement
-Implant shape
The placement of an implant is important when it comes to looking more natural, but it all depends on your body size and shape as to where is best for you.
Slim people are more prone to breast implant visibility than those carrying a bit more weight.
They tend to have part of the implant placed under the chest muscle to give a smoother feel and look. If you have a bit more fat on your upper body, then the implant can be placed entirely behind the chest muscle. This technique also allows the implant to move freely and more natural inline with the boob movement.
The shape of implants are either round or teardrop. While it is often down to preference which you prefer when entering your consultant, your surgeon will be able to provide the pros and cons of each and outline which one will be more suited to you.
As well as size, you have to consider the fact that when you stand up gravity will play its part in making the breasts slope towards the floor. So don't be put off by one shape of implant versus the other before you know the facts and reality of the situation.
Overall there are many factors to consider when opting for surgery to make breasts bigger but more natural.
What to note:
Patients with less breast tissue will struggle to jump more than 2 sizes without looking more fake.
Patients with smaller boobs will experience more roundness and tightness after surgery.
In the following months after surgery, breasts will slope naturally.
Larger natural breasts will not look as high on the chest after breast augmentation.
Under / over the muscle implant placement can make a difference and will be discussed with your consultant. However, under muscle can look more natural.
Making sure the diameter of the implant matches the diameter of your natural boob is important in looking more natural.
Fat transfer from other body parts is possible to achieve a larger look and open up the possiblity of jumping up more sizes. For example B to E.
In some cases, saline implants wrinkle more than silicone ones, causing them to look more fake through the skin.
How to spot (bad) fake boob jobs and what to stay clear of if you want a more natural look:
1.No sloping. Implants that sit high on the chest and do not slope with gravity look more fake.
2.Round like a ball. Implants that are considered 'too round' can appear faker than shaped, teardrop or oval ones.
3.Close-together boobs. The closer together the implants are with minimal space between, the more unrealistic they can look.
If you are based in and around Manchester or surrounding areas and are considering breast augmentation, but are worried about them looking fake, call us today for a friendly chat and to arrange a consultation with our expert surgeons.
There is absolutely no obligation or pressure whatsoever and we can provide advice that is tailored to your exact body shape to make your new boobs look as natural as possible.
To know more about the advanced breast enlargement surgery, please visit: https://manchesterprivatehospital.uk/cosmetic-surgery/breast-enlargement-surgery/
Call today on 0161 507 8822