Here we outline 10 main talking points when it comes to enlarging your breasts and things to consider before undergoing surgery.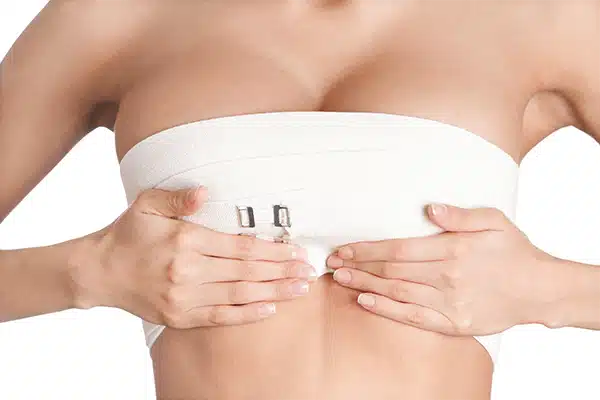 1. People who choose to have their breasts enlarged often think that one procedure will last a lifetime.
However, around a quarter of women will require more surgery after about 10 years. This is because some implants experience changes as time progresses, such as leakage and shape warping due to scarring that occurs naturally in the body.
Other factors such as pregnancy and losing weight can affect the way your boob job looks. This often changes what some women think about how their body looks. And may opt for more surgery.
2. In 2018, the recovery time is much less than years ago.
Now-a-days, women who have their breasts enlarged do not need as much time off work.
Due to the nature of the procedure and advances in treatments, downtime is minimal.
Obviously each case is different depending on the procedure and body type, but a lot of women can return to work after one week and engage in light duties. However, it may take a bit longer to recover if the implant is placed behind the muscle as oppose to above the muscle.
3. Try before you buy. Women can now try before they buy when it comes to breast implants.
Products are available to feel and touch to help decide which type of implant is right for them. They can also use special bras to get a feel of how their new boobs might look and feel.
4. Breastfeeding is still possible. Women who have breast surgery can often still breastfeed.
Depending on the type of surgery they are having and where the incision is made. A specialist consultant can advise on the best place and what is right for you. Crease incisions and those under the arms make breastfeeding still possible. However, breastfeeding in the future could be affected for those needing incisions near the nipple.
5. Cosmetic surgeons all have different levels of knowledge, skill and experience.
It is important to thoroughly research the surgeon who will perform your breast enlargement procedure and ask for examples of their work. Reputable surgeons, like those at Manchester Private Hospital will always showcase their certifications and before/after photos of their patients.
6. Silicone implants are more popular in the North West, particularly in Manchester and surrounding areas.
However, saline implants are still widely used. There are pros and cons of each and you can discuss this during your consultation. It's important to know the facts of each implant type and choose one that best suits your preferences.
7. Enlarged breasts feel like real breasts would on your chest in terms of weight.
Although their are weight differences between saline and silicone implants, either one will add weight to the upper body, just as you would feel if your breasts were naturally larger. This is an important consideration as it can affect posture and body shape.
8. Your breasts can still get larger naturally after breast enlargement and other procedures such as breast reduction.
Changes in circumstances can mean your breasts can still grow. Hormones, pregnancy and weight gain may result in larger breasts even if you have undergone enlargement surgery.
9. It is important not to rush back to exercise after breast surgery.
Of course, this depends on the type of surgery and how much bigger your boobs are, but there is always recovery time that requires you to behave differently than normal. Particularly if you are an active person who likes cardio exercise. Exercise should be limited for around 3-4 months post surgery.
10. Although you can decide how big you want your boobs and what type of procedure you want, your consultant will provide the best advice for your personal circumstances.
Whilst your ideas can be used as a guide, it is important to discuss in detail with your consultant what suits your body shape and type from a professional point of view.
If you'd like to know more about breast augmentation and are based in or around Manchester, why not contact us today for a friendly chat with no obligation or pressure. You can get all your questions and answers out in the open with a consultation that will give you what you need to know about enlarging your breasts. Call today on 0161 507 8822
To get more details about boob jobs, please visit: https://manchesterprivatehospital.uk/cosmetic-surgery/breast-enlargement-surgery/