The rhinoplasty, commonly known as a nose job, is a cosmetic procedure that involves sculpting the nose for cosmetic purposes, or possibly to improve breathing due to obstructions. The goal of the procedure is to provide a natural-looking nose that appears as if it was never altered, resulting in a more balanced and aesthetically pleasing facial appearance.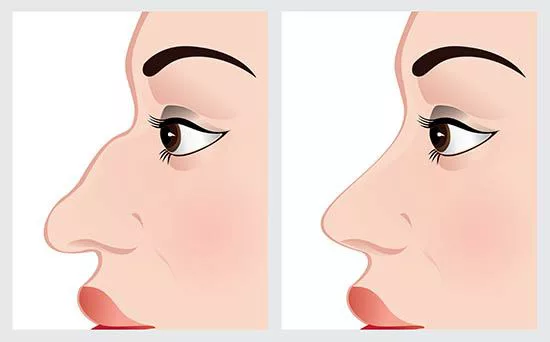 Your Consultation
Most cosmetic procedures begin with a consultation so that your suitability for the procedure can be determined, as not everyone qualifies. You will have a meeting with a board-certified cosmetic surgeon and present any necessary paperwork at this time. This may include medical records or a disclosure of any medications that you are currently taking, including supplements, to ensure that any medications that you are taking will not interfere with your recovery or the procedure itself.
When it comes to wide nose jobs before and after photos can be very helpful in giving you an idea of what is possible with this common type of cosmetic surgery.
Your consultation is a great opportunity for you to share any questions or concerns that you may have about any step of the treatment process so that you completely understand what is involved. It may be helpful to write down your questions beforehand so that you don't forget anything during this consultation.
Ideal Candidates
If you are being considered for a rhinoplasty for wide nose bridge, there are number of factors to go into determining if you are an appropriate candidate. Some factors include your nasal maturity, since the procedure works best for those who have reached physical maturity. Ideal candidates are also those who have realistic expectations regarding the outcome of their surgery and do not have body dysmorphia disorder that leads to a distorted recognition of their current appearance.
Preparing for Your Rhinoplasty Procedure
As with any type of cosmetic procedure, proper preparation helps to make it more likely that you will obtain the results that you desire and heal properly and quickly. You will be instructed to avoid taking certain medications and supplements that could increase your risk of bleeding after your procedure. You should also avoid drinking alcohol, caffeine, and consuming tobacco products for a specified amount of time before your procedure.
Your Procedure
Patients normally undergo a rhinoplasty procedure on an outpatient basis, so no hospitalization is necessary in most cases. A rhinoplasty can be performed as an open or closed procedure, with both methods involving the placement of incisions within the nostrils. The difference is that an open rhinoplasty involves an additional, external incision.
If an external incision is needed, it will leave a permanent scar. The skin of the nose will be folded back to reveal inner nasal structures. This allows your surgeon to do the needed work in reconstructing your nose.
Your cosmetic surgeon can determine the right type of rhinoplasty incision approach that is right for your individual situation so that you can achieve your treatment goals.
Procedure Risk
Although the rhinoplasty procedure is considered to be quite safe, there are risks with any type of surgery. The main risk is simply that the patient receives a poor outcome. This highlights the fact that having realistic expectations regarding your surgery outcome is extremely important. So be sure to fully disclose to your cosmetic surgeon how you expect your results to appear after your surgery.
It can be helpful to bring along photos of a person who has a nose that you would like yours to be modeled after. This will allow your cosmetic surgeon to inform you if this is a realistic outcome for you and your individual anatomy.
One important post-procedure consideration is breathing. A poor result can lead to difficulty breathing in someone who had no problems before their surgery. An individual with prior breathing problems may find that their condition worsens after surgery when things do not go well. Additional risks include the risk of infection, bleeding, and anesthesia risks, all of which are extremely small.
Recovery and Downtime
In the case of a rhinoplasty for big nose, recovery and downtime should not take very long. Downtime is normally one or two weeks for both open and closed procedures. If you have undergone a closed procedure, you should recover rapidly within six days. At that point, you should be able to remove the splint and resume public activities.
A rhinoplasty for wide nose often results in surprisingly little bruising, so female patients can cover this up using a little concealer. You can probably go out for dinner, for example, without any obvious signs of having undergone surgery.
Receiving the full results of your procedure can take as long as one to three years because the skin is not being cut like in a tummy tuck or facelift procedure. Your skin must now adapt to the new framework, which will occur more quickly for the nasal bridge than the tip of the nose.
Even though you tend to experience a degree of swelling and bruising after a rhinoplasty procedure, most patients are quite comfortable and experience little pain. Any pain or discomfort that you experience should be alleviated with prescribed medications.
Procedure Cost
Rhinoplasty start from £4,500; Wide nose job cost is something that varies from patient to patient, depending upon the specifics of your procedure and other factors like whether it is performed as an open or closed procedure. You can get a better idea of the cost of your rhinoplasty at your initial consultation.
Visit our rhinoplasty before and after results photos ; the gallery shows a variety of nose jobs done.
Related Posts: