Patients are often required to tell their consultant as much information as possible during a consultation so that expectation goals and possibilities are discussed in full detail.
Due to the rise in popularity and availability, people in Manchester and surrounding areas are choosing nose job surgery more often than they used to 5+ years ago.
Hundreds of rhinoplasty procedures are carried out every year and the number is growing steadily.
Nose Correction
The nose is one of the most defining and prominent features of our face.
It has a massive influence on how we not only look to others, but perceive ourselves to others too.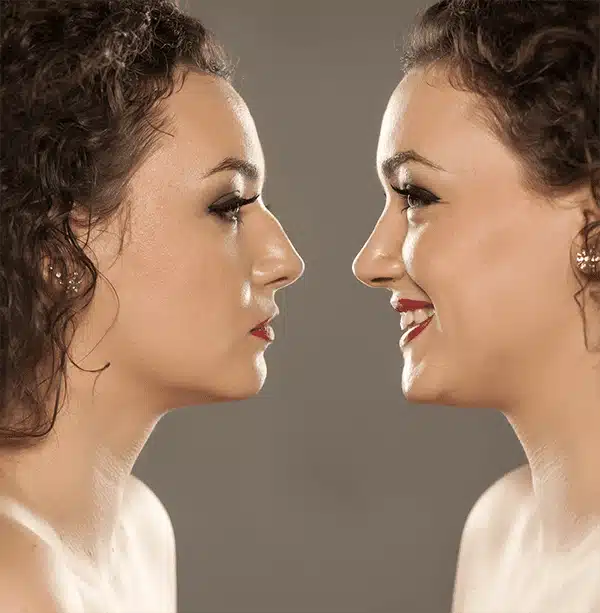 The most common rhinoplasty procedures that patients request are; to refine, or reduce the size of the nose.
Particularly focusing on the tip, or the hump on the nose.
In some rare cases, nose augmentation is requested for small or thin noses.
In cases where a person is unsure about what it is they dislike about their nose, surgery can be difficult.
Whilst advice and guidance can be given, a patient needs to be sure on what they want to achieve as an end goal in order for them to be satisfied.
At the Manchester Private Hospital, we regularly see patients with interests for rhinoplasty from all over the North West, including Liverpool, Manchester and the Wirral.
If you wish to find out more about rhinoplasty in a consultation that is tailored to your individual needs, contact us today for a chat about open and closed nose jobs.
Rhinoplasty And Other Procedures
Rhinoplasty is sometimes combined with other procedures.
These include, facelift and chin enhancement.
Enhancing the chin is a popular procedure in combination with a nose job because both the nose and chin complement each other.
If a patient has a chin that does not stand out or balance the face, it can sometimes make the nose more prominent.
Patients often report signs of unhappiness at their side profile view.
Therefore, correction of the nose on its own may not be enough to reshape and rebalance the face completely.
In addition, rhinoplasty is combined with another procedure; septorhinoplasty. This is the combination of restructuring the nose shape and straightening the septum.
If you are unhappy with the way your nose looks and are in good physical health, you may be an ideal candidate for rhinoplasty.
Booking a no obligation consultation is the best way to find out more, find out what is possible and whether your expectations can be fulfilled with cosmetic surgery.
It is also a good idea to write down as many questions as possible before attending your consultation so that you find out everything you need to know.
On many occasions patients have walked away from a consultation thinking they have found out everything they wanted to know, only to think of something later at home.
Rhinoplasty consultations often provide patients with ideas when they discover the possibilities of surgery.
However, patients also are often too hard on themselves in terms of appearance, especially when self confidence is low.
It is important that you are in good mental health as well as physical when considering rhinoplasty. Events in life can sometimes make us feel different than what we once did. Cosmetic procedures such as a nose job should only be carried out if you feel you are in a good place mentally.
Speak to our qualified staff today for peace of mind and a full assessment based on your individual needs.
No two patients are the same, so what may work for one person may not work for another.
To know more about rhinoplasty, please visit: https://manchesterprivatehospital.uk/cosmetic-surgery/nose-surgery/