Myth Busting Otoplasty
This then has a negative impact on adult life and can make people feel self conscious about their appearance.
Being self conscious also leads to low self confidence and low self esteem.
Some people are affected so badly that they feel the need to cover up their ears on a daily basis.
Many men and women hide their ears with headwear such as hats, headbands, jewellery such as large ear-rings, and their hair.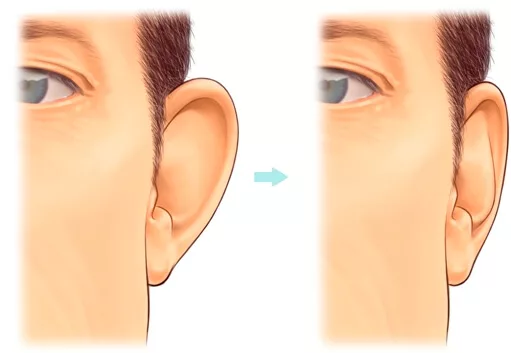 Feeling self conscious about your ears can also dictate what type of hairstyle you opt for at the salon / barbers and limits what you can do in terms of how you look, such as constantly wearing your hair down.
Otoplasty is a surgical procedure that can take away these negative feelings and give people a new lease of life.
However, there are many myths surrounding ear correction surgery that puts people off.
The result of this is that they continue to feel self conscious and miserable.
Here are some common myths that surround the procedure, which we are keen to bust.
Myth 1 – Otoplasty is a complex procedure.
Many people are scared by the thought of 'messing with their ears' because of the complex surgery involved.
However, otoplasty can actually be a simple procedure with a short recovery time and high success rate.
Depending on your circumstances, sometimes all that is needed is some straight forward 'pinning' to stop the ears from sticking out.
Myth 2 – Otoplasty is very painful.
As with all surgical procedures, there are variations in how much pain a patient will feel during the recovery stage of otoplasty.
However, surgery is performed under general anaesthetic, or local anaesthetic in some cases, and recovery is relatively painless.
Mild pain and discomfort can be managed with simple painkillers, but patients in most cases do not experience lots of pain.
Myth 3 – Otoplasty won't change my mood.
Whilst this is a difficult point to measure, as each person has different personalities and emotions, otoplasty does have a high success rate.
This includes both how the surgery corrects the protruding ears and how the patient feels post surgery.
A number of studies have been performed, including those on children, that show a majority increase in happiness and self confidence following an otoplasty procedure.
Myth 4 – My protruding ears might correct themselves.
Unfortunately, ears reach the majority of their adult size (around 80%) by the time a child is 5 years old.
Therefore, even as a young adult your ears will be how they look now and in the future.
However, it is also true that growing in height and putting on weight may alter your appearance and make parts of your body more proportionate.
But overall, otoplasty is usually the only way to permanently fix protruding ears.
Myth 5 – Otoplasty takes years for results to show.
Whilst there are a number of different procedures available for ear correction, including some being more extensive than others, patients usually see their full results of surgery within a maximum time frame of 12 months.
However, results will be noticeable within 2 weeks and if there is swelling, a large percentage of it will subside within 6 weeks.
Myth 6 – Otoplasty requires a lengthy hospital stay.
The majority of patients undergoing ear correction surgery spend a maximum of 1 day in hospital depending on the extent of their procedure.
However, most patients return home the same day. This mean that the surgery is performed as a day case and after observation post surgery, patients can return home for rest and recovery.
If you or someone close to you is seriously considering otoplasty but has doubts and hesitations, the best way to get answers to questions is to speak with an expert.
Arranging a consultation for otoplasty will allow you the opportunity to not only find out more about the procedure, but receive advice that is specifically tailored towards you.
It is important that you obtain all the necessary information so that you can make an informed decision on whether or not to proceed with ear correction surgery. For more details about otoplasty, please
visit: https://manchesterprivatehospital.uk/cosmetic-surgery/ear-correction/