Why Mummy Makeovers Are So Popular
New mums often go through similar feelings after having their baby.
After the storm that being a new mum brings calms, some of the attention turns back on themselves and their appearance.
It may not be straight away, it may be 6 months, maybe 12 months later, but at some point a lot of women who have recently given birth will feel similar emotions towards themselves.
Whilst bringing a little bundle of joy in to the world is without a doubt an amazing experience and feeling, it can leave some mums feeling down and disheartened by what pregnancy and childbirth has done to their body.
Childbearing can have such a dramatic affect on every aspect of a woman's body – face, stomach, legs and other areas. Factors such as weight gain / loss and carrying a baby can leave the body feeling tired, worn out and beyond repair.
However, more and more people are no longer accepting their post pregnancy look as permanent and are choosing a mummy makeover instead.
So what's a Mummy Makeover?
A mummy makeover is a phrase given to describe multiple cosmetic surgery procedures performed on women after childbearing and motherhood.
The surgeries are designed to enhance a woman's body and restore appearance to that of pre-pregnancy.
Mummy makeover's can be tailored to a patients' individual needs based on their preferences and body type / shape.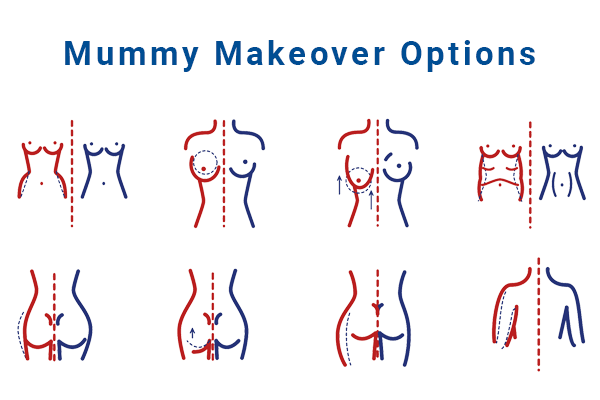 Your surgeon can provide support and guidance so that you can make an informed decision about what combination procedures are right for you.
The most common cosmetic procedures included in a mummy makeover include; breast surgery, tummy tuck and liposuction.
One of the reasons why these procedures are the most popular is because they are the area's most affected by childbirth.
Some women find it difficult to shift stubborn fat through exercising and healthy eating and in some circumstances no amount of exercise will get rid of excess skin / fat that has stretched or sagged.
Breast surgery during a mummy makeover can include a combination of breast implants – known as augmentation – breast lift and breast reduction. Common goals that new mums want to achieve from boob job surgery include; increasing cup size, making boobs symmetrical, lifting them to a more perky and youthful position and adding volume to restore a bust.
One of the reasons why 'Mummy Makeover' surgery is so popular is because fantastic results can be achieved.
Most women who undergo surgery achieve the look they are hoping for and are completely satisfied once their body has healed post surgery and post aftercare.
What to expect before, during and after a mummy makeover
Before considering cosmetic surgery, many women research online to find out more information about what options are available and what to expect.
The low self esteem and lack of confidence is usually enough to make new mums consider surgery, especially if they have a lack of results through diet and exercise post-partum.
One of the main factors is their stomach, also known as a mummy tummy, whereby there is excess fat and skin that creates a 'pouch' resulting in loose / sagging skin with stretch marks.
The other major factor is new mum boobs, which can change significantly in size and shape, especially if breastfeeding a new baby. The boobs tend to droop and hang much lower than they did before motherhood.
When considering a mummy makeover, there is a three stage process:
1. Consultation – a chance to ask questions and gain an insight in to surgery and what can be achieved. It is important that you find out all you need to know along with undergoing a full medical examination to ensure you are an ideal candidate for surgery.
2. Surgery – where surgery is performed on the requested body parts, such as breasts, stomach etc. Depending on the surgery being performed, you will be required to stay overnight in hospital, sometimes for 2-3 nights for immediate recovery and observation.
3. Aftercare – this is the recovery stage whereby dressings are removed and follow-up appointments take place. Progress and healing are checked thoroughly to ensure full recovery and results.
Following full recovery, patient satisfaction is usually very good and new mums can see the results within months, once healing is complete. Patients report a boost in confidence and feel like themselves again, with the addition of being able to shop for clothes and underwear with a smile on their faces.