It is estimated that the number of breast reduction surgeries performed in the UK is rising each year and the latest story to grab the headlines is that of celebrity Kerry Katona, of Atomic Kitten fame from Warrington, Cheshire, who has recently undergone reduction surgery in conjunction with other breast procedures.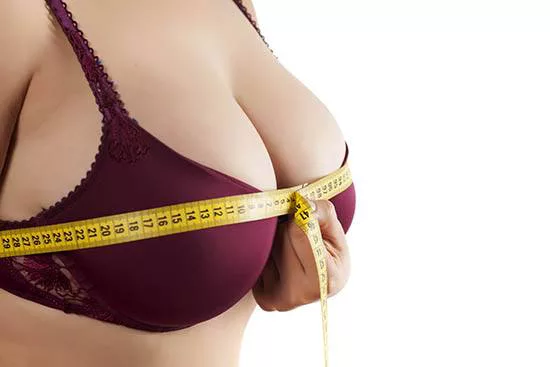 Reduction surgery is designed to decrease the size of a ladies boobs by removing fat, tissue and skin so that they are a more desired and manageable size, keeping in proportion with the rest of the body.
Often women with large breasts suffer major side effects that can negatively impact on their lifestyle and self esteem with discomfort and pain due to the size and weight of the breasts. Common complaints of large boobs include shoulder pain, back pain, neck discomfort and fatigue.
According to information on the Internet, average large breasts can weigh between 750g (D cup) to a massive 1.3kg (F cup).
So when we look at these figures it is easy to see how supporting two breasts of this weight can take its toll on the body.
Should You Consider Breast Reduction?
Whilst this question is something only you can ultimately decide, there are a series of points to consider that may make your decision a little easier and outline whether or not you are an ideal candidate for reduction surgery, these include:
– The size, weight and volume of your breasts limits your physical activity.
– You are suffering skin side effects as a result of large breasts, such as infection or rashes.
– You are not part of a current ongoing weight loss programme.
– You are not having any more children.
– You are experiencing pain or discomfort in your shoulders, neck or lower / upper back.
– You have difficulty sleeping.
– You feel your breasts are too large for the rest of your body (disproportionate).
How Is A Breast Reduction Performed?
A breast reduction is a single cosmetic procedure that removes tissue and skin from your natural breasts to decrease the overall size.
In a typical reduction procedure, no implants are used, which means that the new shape, size and position of the breasts is down to the skills and expertise of your chosen surgeon. A breast reduction usually involves lifting the breasts (uplift) and give a more perky appearance.
Before surgery, your surgeon will mark your breasts with a surgical pen so that the guide is there for where incisions will be made and where tissue will be removed from.
An incision is typically made around the outside of the nipple (areola) and down the centre of each breast. This is so that excess tissue and fat can be removed to reduce the overall size. Depending on the extent of the surgery and the size of your boobs, the areola and nipple may need to be removed and reattached in a new position. Although this is usually only for very large breast reductions and generally both the nipple and areola remain attached.
A breast reduction is a permanent procedure with high patient satisfaction and is very rarely reversed. As long as you maintain a healthy weight and lifestyle your 'new boobs' will last for many years to come.
Results are usually instant and the patient can see how their breasts will look within a few days. Although it is normal to experience swelling and for the boobs to remain covered with supportive clothing during the immediate recovery and aftercare.
What Areas Are Covered?
The Manchester Private Hospital is a specialist breast reduction clinic with qualified and experienced surgeons in breast reduction procedures. The Manchester location acts as a central hub for the North of England and North Wales and many patients travel a good distance to attend out breast reduction procedures.
Common locations of patients include; Manchester, Bolton, Bury, Oldham, Rochdale, Salford, Tameside, Stockport, Preston, Burnley and more.
If you are unsure whether your location is covered and accessible to our clinic, give us a call and we can advise you on travel plans including duration and what you will need to consider when undergoing surgery. Our helpful staff are on hand to chat about breast reduction surgery on 0161 507 8822.