But what is the difference between the two and which one will work best for you?
Below we look at each liposuction method and run through some comparisons to help you better understand how each procedure works and what it is used for.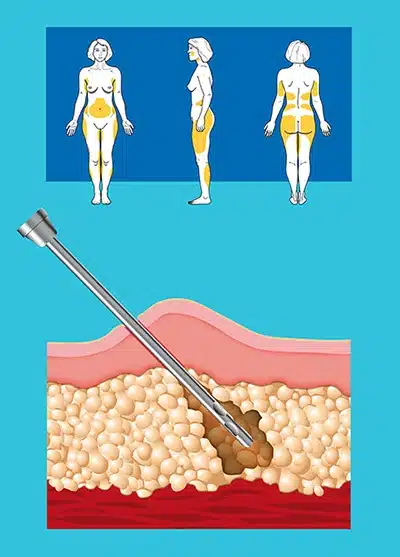 VASERlipo
Vaserlipo is considered to be one of the most advanced, minimally invasive fat busting treatments in the industry.
People love it because it works. Results are visible immediately and patients can literally see the success of the fat removal in front of their eyes.
In addition, cosmetic surgeons love it because it has a high patient satisfaction rate and produces long lasting results.
Compared to traditional liposuction, Vaserlipo has far less downtime. However, it does come with some cons as well as pros. For example, Vaserlipo can come with an uncomfortable recovery period depending on the area being treated and requires pain relief medication to curb symptoms.
Also, it is NOT a weight loss solution or a replacement for diet and exercise.
Instead, Vaserlipo is only suitable for people who are as near to their ideal / target bodyweight as possible and is unsuitable for obesity.
Vaserlipo is viewed as more of a body contouring and sculpting treatment, rather than a complete fat removal procedure.
With that said though, the advanced technology of Vaserlipo allows cosmetic surgeons to precisely target problematic fatty areas of the body.
Therefore, because it is impossible to specifically target stubborn fat loss through diet and exercise (fat is distributed evenly around the body), Vaserlipo can offer a solution targeting stubborn fat zones – such as saddle bags and love handles.
SMARTlipo (Laser Lipo)
Smartlipo, is the other popular fat removal procedure, which uses heat as opposed to Vaser that uses ultrasound.
Laser lipo tends to be used on small target areas of fat and breaks it down so that it can be removed using a suction tube, or left in the body to naturally pass through excretion.
It literally melts away fat cells and tightens the skin on the body and face.
The laser (heat) energy causes the skin to contract, which can lead to tightening of the skin, decreased cellulite and fading of stretch marks.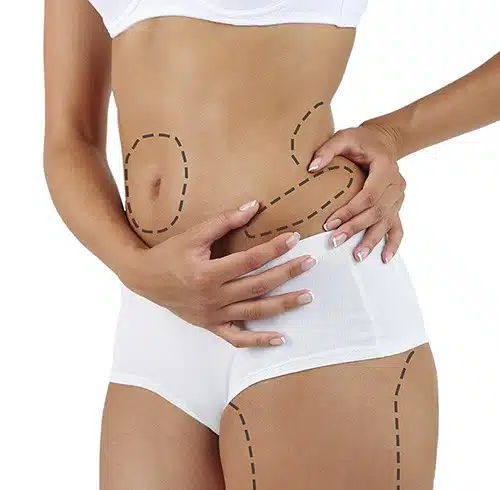 Some of the laser heat energy can sometimes cause damage to surrounding tissues and is not as accurate or precise as Vaserlipo. However, damage is typically minimal.
A major difference between Vaserlipo and SMARTlipo is the recovery and downtime.
With Vaser, recovery time tends to be shorter because of the precise nature of the treatment and limited damage to surrounding tissues.
Whereas SMARTlipo can sometimes come with a longer recovery time because of the damage caused to surrounding tissues. The more damage that occurs, the more painful the recovery can be and the patient will require stronger pain relief medication.
Vaserlipo, with its precise targeting of fat cells is known for not damaging or affecting any tissue that is not being targeted, such as blood vessels, skin and nerves.
In turn this leads to shorter recovery times because the surrounding tissue is not touched when targeting fat.
One point where both procedures can find common ground however is that they both offer quicker healing and recovery time than traditional liposuction.
Traditional liposuction treatments often require general anaesthetic, rather than local anaesthetic, and it takes the body longer to recovery from.
Vaserlipo and SMARTlipo allow the body to heal quicker and patients can often be back on their feet and resuming normal duties within 24 hours.
Comparison Summary
When comparing VASERlipo with SMARTlipo, it is worth noting the differences, not only in how they target fat, but their overall use, risks, safety and techniques.
– VASERlipo and SMARTlipo both produce less bruising than traditional liposuction.
– Both procedures liquefy fat cells before removal.
– Ultrasound (VASER) is more precise at targeting fat cells.
– SMART uses light / heat energy instead of ultrasound.
– VASER is more selective in the cells it targets.
– Both procedures can tighten the skin.
– Choosing one procedure versus the other is down to personal preference, rather than results.
– Both treatments require a skilled cosmetic surgeon and the level of experience can sometimes affect results.
– Both treatments can be used in conjunction with one another to achieve better fat removal and skin tightening.
– VASERlipo and SMARTlipo require patients to wear compression garments post treatment for maximum results.
– Vaserlipo can provide more symmetry.
– Fat removed by VASERlipo can be transferred to other areas of the body, whereas fat removed using SMARTlipo cannot.
What procedure is best for you?
If you are still unsure or have doubts about whether VASERlipo or SMARTlipo is right for you, book yourself a no obligation consultation with a specialist.
After researching as much information as possible, write down a list of questions to ask so that you can get personalised guidance and specific advice relating to your body and potential target areas.
Dr Singh is a liposuction expert who specialises in cosmetic fat removal at the Manchester Private Hospital. He is registered with the GMC – General Medical Council – and has years of experiencing in the field of body sculpting.