Why Vaser liposuction is popular
The downtime for patients is much less compared with other treatments. And there is a certain buzz around it where patients are excited to undergo treatment rather than worry about it or fear it.
The advanced exciting new technology of Vaser lipo helps to improve the appearance of the body. Fatty deposits can be removed from under the surface of the skin in a very targeted way.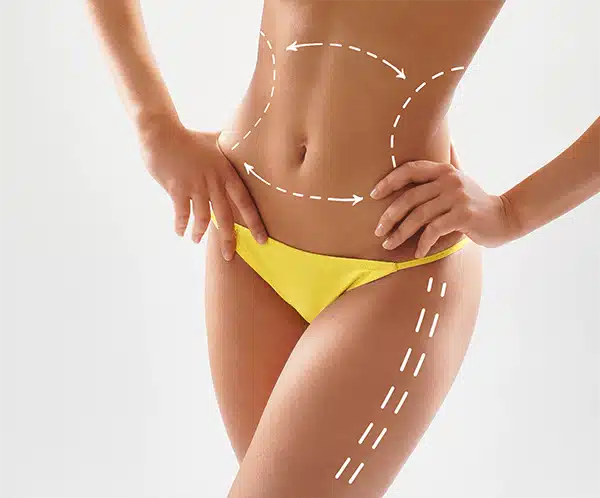 Vaser is often performed on patients who are in good health, a good state of mind and sometimes the sporty type. Reason being is that it is not a specific weight loss procedure, but one that contours and sculpts the body.
It can be used to aid in shaping the body for those who have recently lost weight through diet or exercise. It is also very effective at targeting stubborn fat areas that are more difficult to shift.
For example, a person that works out 4-5 times per week and is happy with their exercise programme, but needs additional help on their tricep area of the arms, aka bingo wings.
If we compare Vaser lipo to traditional lipo, the most obvious comparison is that Vaser is far less invasive. Rather than using a large vacuum machine to pump out fat, Vaser breaks down the unwanted fat cells so that they can be removed much more easily.
Breaking down the fat cells with high frequency vibrations is the main difference and the method that makes it easier to target specific cells. It also leaves surrounding areas intact, meaning there is less trauma and less recovery time.
However, it is worth noting that while Vaser is less invasive, there is still recommended recovery times and possible side effects.
Bruising can sometimes take around 3 months to clear and the pain from treatment varies depending on the type of person you are. Everyone has a different pain threshold and can withstand more than others.
Clinics who sometimes advertise 'instant recovery' are often not telling you the full story and you should proceed with caution. Results are often not fully seen until 3-4 months and sometimes aftercare can take the same amount of time depending on the area being targeted and how much fat is being removed.
Always discuss your ideas and expectations with a professional during a consultation. Reputable consultants will always give you reality over what they think you want to hear.
Most popular areas targeted with Vaser
People in Manchester and the North West often use Vaser lipo to get a flatter stomach. They usually want to shift an extra bit of fat for their summer holiday and undergo treatment 4-5 months prior to their departure date. This gives enough time for recovery and results to be visible.
Other popular areas of the body include thighs and arms. Bingo wings can be a real issue for women during the summer months when it is too hot to cover up. Some people often choose to shape their arms 'better' on the run up to a wedding or special occassion whereby they will be more exposed and in the limelight more than other times.
Is Vaser liposuction painful on these areas?
All procedures can be carried out with local anaesthetic with the option of additional sedation, however, patients generally have very little or no pain during treatment. Smaller areas of the body are less discomforting, as the time required to achieve the desired effect is less. For example, the arms as oppose to the thighs.
After the procedure, some bruising and swelling may occur but this is normal and does not usually cause pain.
To know more about vaser liposuction procedure, please visit :
https://manchesterprivatehospital.uk/cosmetic-surgery/vaser-liposuction/