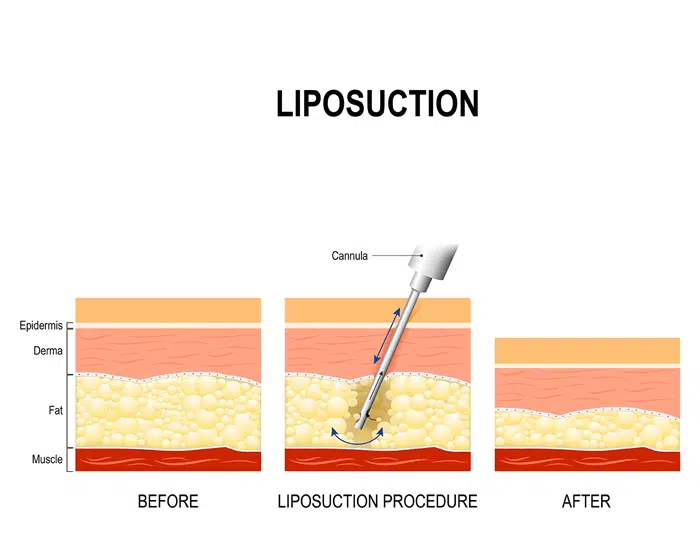 What does liposuction do?
The term liposuction can be broken down into two sections: 'lipo' and 'suction'. 'Lipo' refers to fat or fatty tissue – you may have also heard the term 'adipose tissue'. Suction, of course, refers to the removal of something using a vacuum – therefore the term liposuction means the removal of fatty tissue using a vacuum.
Liposuction can also sometimes be referred to as suction-assisted lipectomy or liposculpture. It can be done as a standalone procedure, or as part of other cosmetic procedures such as tummy tucks and gynecomastia surgery. The aim of liposuction is to sculpt parts of the body which are hard to alter naturally. Liposuction is not recommended as a substitute for losing weight.
How does liposuction work?
Getting liposuction isn't as simple as signing up and getting it done the same day. There's a process to follow and safety procedures to make sure you're making the right decision for you.
Before the surgery
Regardless of whether this is your first cosmetic procedure or you have some experience, you'll need to consult with a surgeon before you can get liposuction. At this stage, your surgeon will ask for your reasons for getting the surgery, and what your expectations are. If you're not sure which surgery is right for you, your surgeon can advise you on the differences between procedures and help you to come to a decision.
During the consultation, your surgeon will also examine your body. This might include taking photographs for your medical records – you'll be asked for your consent before this happens. Your surgeon will likely also measure your height and weight, and ask about your medical history. This is so they can determine whether the surgery is suitable for you.
It's important to tell your surgeon about any medications you're taking, even those not prescribed by a doctor, such as herbal remedies. If you don't tell your doctor this information, it could impact the success of your surgery.
After this consultation, you should go away and consider your options before agreeing to the procedure. Always check that your surgeon is listed on the specialist register of the General Medical Council (GMC). This is one way of making sure they are reputable and trustworthy.
Remember, there is no need to rush into making a choice when it comes to liposuction – and anyone who tries to hurry along your decision making process probably doesn't have your best interests at heart.
The procedure itself
Liposuction is usually carried out under epidural or general anaesthetic. If general anaesthetic is used, you will not be conscious during the operation. Under an epidural anaesthetic, however, you will remain conscious and simply be unable to feel the area where liposuction is being carried out. Epidural anaesthesia is usually used when liposuction is done on the lower body, such as your thighs or calves.
During the procedure, your surgeon may use ultrasound technology to break up the fat tissue under your skin in a method called vaser liposuction. This makes it easier for the fat to be removed, reducing the recovery time needed after the procedure. They'll then make an incision so they can insert a cannula or tube into your body. Depending on the size of the area being treated, you may need several incisions.
This cannula will be attached to a vacuum machine which will suck out fatty tissue. Your surgeon may need to move the cannula back and forth to get all the tissue out, but you shouldn't feel it. Once the desired amount of fatty tissue has been removed, the area will be drained of excess fluid and blood before the cannula is removed and the incisions stitched up.
Your surgeon will apply bandages over the stitches to reduce the risk of infection. The actual procedure should only take a few hours, but you will likely need to stay in hospital overnight. This allows your medical team to keep tabs on you during the night to make sure there are no complications.
Can anyone get liposuction?
Although anyone can get liposuction, it may not always be the best option for everyone. There are lots of things to think about before you make your decision, so you should always take your time to ensure you've considered all your options.
The first thing to consider is the reason why you want to get liposuction. For those suffering with a condition such as lipoedema or lymphoedema, liposuction may be available free of charge on the NHS. However, if your liposuction is for purely cosmetic purposes, you will have to foot the bill yourself. Many private hospitals and cosmetic surgeries offer payment plans to help make the cost more manageable.
Additionally, your body type will need to be factored into the equation. Your surgeon should explain this to you during your consultation, but your natural physique can impact which procedure is right for you. If your skin lacks elasticity and firmness, you may find that liposuction alone results in sagging skin. Therefore, a procedure that removes excess skin as well as fat – such as a tummy tuck – may be more suitable for the results you want.
The results you're looking for can also impact the type of liposuction you choose to have. Traditional liposuction generally has a longer recovery time than vaser liposuction and may result in more bruising and scarring. On the other hand, traditional liposuction can remove more fat in one session and can also be combined with other procedures (such as a tummy tuck) in one operation.
Finally, your current state of health can impact whether or not liposuction is right for you. Your surgeon should be able to advise you on this. For liposuction to be suitable for you, you'll need to be at or close to a healthy BMI. Liposuction shouldn't be treated as an alternative to weight loss, and a good diet and exercise regimen should be maintained for the best results.