Often, despite living a healthy lifestyle, many people fail to achieve the results they want, hence the decision to undergo liposuction.
Every year more and more people are opting for liposuction intending to get rid of excessive fatty deposits, making it an increasingly popular cosmetic procedure. They also demand the best and look for the top cosmetic surgery clinic. However, anyone considering liposuction must know some important factors about the surgery's basic information, when it is indicated, what results to expect, and what they must do before liposuction to stay informed and achieve the best results.
So if you're considering liposuction, here's a compilation of the top things you must know before entering the operating room:
1. Know Whether You're the Right Candidate for Liposuction
Liposuction is indicated in patients of legal age (18+) who are in good health and present fat accumulations in localised areas of the body that they wish to eliminate.
Like every surgical operation, you must be in good general health to be a good candidate for liposuction. It is not recommended if you have had recent surgery in the area to be treated, if you have poor circulation in that area, or if you have heart or respiratory problems.
It is also important to know that liposuction does not improve cellulite.
The most important thing is to be realistic about your expectations. Don't expect the procedure to make you a different person. It will only improve your appearance and boost your self-confidence.
Thus, before deciding whether to have liposuction, consider what you want to achieve and discuss it with your plastic surgeon.
2. Choose a Trusted Cosmetic Surgery Clinic
One of the most important factors in having a successful surgery is to select a reputable cosmetic surgery clinic with accredited professionals.
It is vital to ensure that the chosen centre complies with the mandatory medical standards as it is an issue that can affect health. So it is better not to skimp on expenses.
3. Things You Must Do Before Liposuction
Since liposuction is an invasive surgery, there are some recommendations you must follow to be a good candidate for liposuction:
Reach an ideal weight before liposuction, or at least get close to it. Please do not confuse it with achieving your ideal body since stubborn excess fat does not go with weight loss. This is where liposuction intervenes.
Exercise can help you achieve the leaner contour you desire with liposuction. In other words, it may be helpful towork on toning your muscles before the surgery.
Follow a healthy and balanced diet. It is convenient to follow a diet rich in nutrients that benefitthe body, but it is even more convenient when it comes to undergoing surgery.
4. Know the Risks of the Operation
All surgical intervention carries their medical risks. Fortunately, liposuction is one of the safest surgeries with fewer complications. However, it is necessary to go to the operating room with all doubts resolved.
Some infrequent complications include fluid accumulation, skin injury, infection, excessive fluid loss, and aesthetic problems. Although these complications are rare and their risks can be reduced if a trusted liposuction clinic is chosen, some issues, such as asymmetries or ripples on the treated skin, may arise regardless of the cosmetic surgeon's qualifications, which may require you to undergo a second intervention.
The best is to discuss everything with your surgeon to make an informed decision.
5. Liposuction Corrects Some Areas
Liposuction is not intended to correct cases of obesity. Its performance is indicated in people with normal weight or mild or moderate overweight and allows correcting those areas where diet and physical exercise do not have an effect. It is very common to do it on the abdomen and flanks, hips, inner thighs, and back.
6. Know About the Liposuction Procedure
You should be wary if they offer to operate consultation, alleging that it is simple or because it reduces costs. Liposuction must always be carried out in an operating room prepared and equipped for this type of operation and must have all the necessary security measures so that the result is adequate and the patient's health is not endangered.
It must be carried out in an approved operating room with a team of anaesthetists, qualified surgeons, and nursing staff. It is generally performed using local anaesthesia and intravenous sedation, which the anaesthesiologist monitors and controls throughout the procedure.
Before the intervention, preoperative tests must be carried out, consisting of an analysis and an electrocardiogram (although it may include some more if there is a history of allergies or contracted diseases). In addition, a visit must be made with the anaesthetist in the operating room, who must complete a questionnaire and explain the type of anaesthesia to be used and its possible risks.
In most cases, it is an outpatient intervention and does not require that the patient remain hospitalized in the medical centre after the intervention. In about two or four hours after surgery, you can be discharged.
7. Go Accompanied on the Day of the Surgical Procedure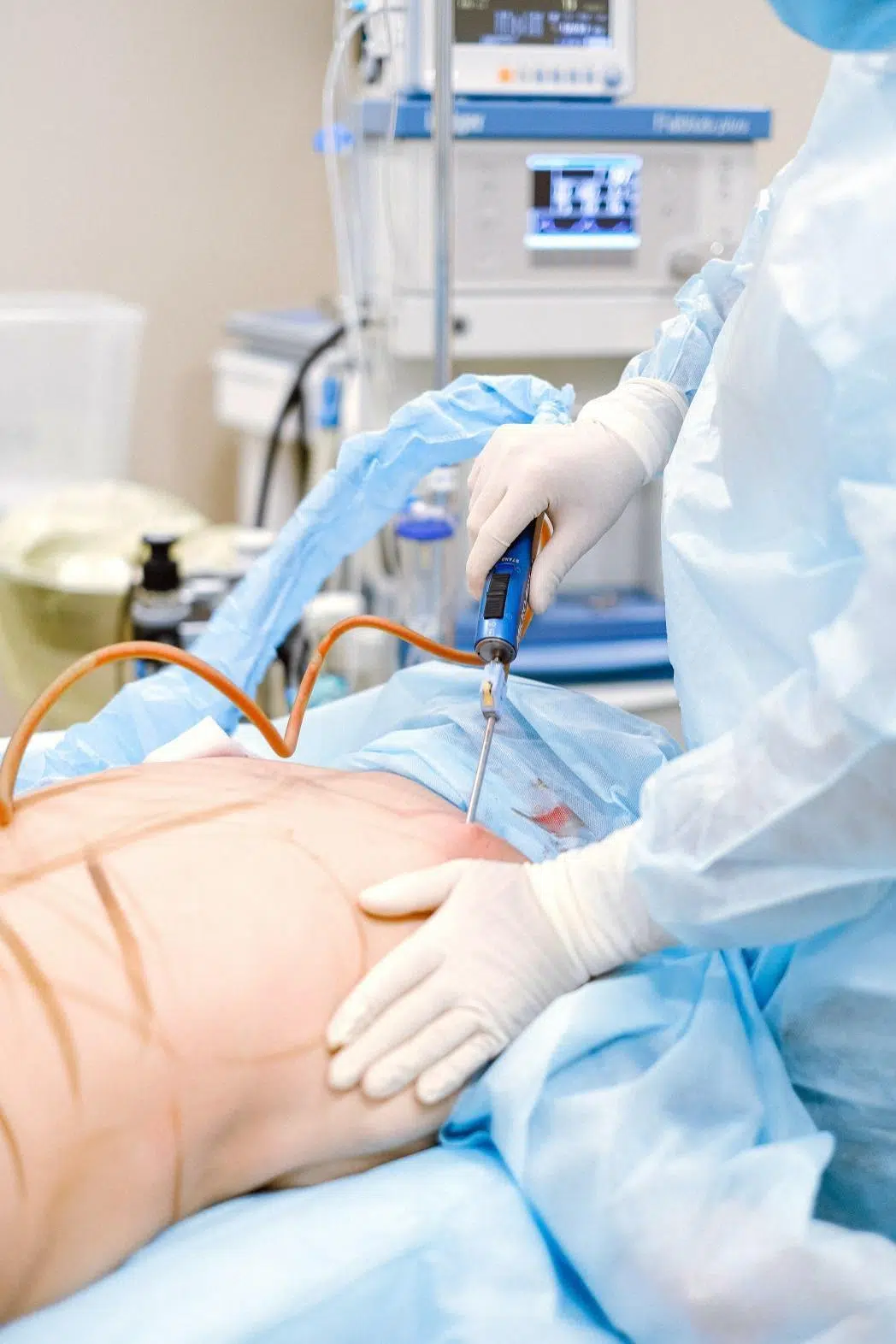 It is convenient because it will be easier for the person operated on when they leave the operating room, and it will help to follow a good postoperative period from the first moment.
8. Know About Post-Operative Care
Rest and Pressotherapy
During the 48 hours following the operation, it is vital to remain at rest. For a few weeks, it is advisable to wear a pressotherapy girdle, which will help ensure that the volume extraction does not affect the skin and the result is satisfactory.
After 4-5 days, you can remove it to shower and wash the girdle. It is advisable to apply moisturising creams after showering in the treated areas.
It is best to purchase the garment at the clinic, but you can also purchase it directly from specialised stores. In this second case, it is important to check with the surgeon beforehand about the exact model and size to buy.
Post-Operative Symptoms
The bruises or ecchymosis (hematomas) last between 2 and 3 weeks, being more intense in the areas where the girdle does not reach due to the lack of compression. They also appear in the most declining areas due to the force of gravity. However, inflammation and oedema may persist in a mild form or for up to 3 months.
Lymphatic Drainage
It is highly advisable to perform lymphatic drainage, as they help to eliminate oedema and reduce inflammation more quickly. These massages will help eliminate swelling in the operated area, improve fluid retention and circulation, and obtain adequate results.
They must be started once the girdle has been removed since it is more important to remain with it permanently for up to 3 weeks. There is no limited number of drains, although 2-4 sessions are usually enough.
When considering Vaser Lipo Manchester residents look for the top cosmetic surgery clinic with qualified surgeons experienced in such procedures. Indeed, liposuction must be performed by an expert surgeon who adapts the intervention to the case and the patient's specific needs.
If you've made up your mind, reach out to the Manchester Private Hospital team and rest assured to have the safest procedure under the supervision of qualified professionals at the best price.
Call 0161 507 8822 or visit the website to book a FREE consultation!