In fact, some women reported concerns that they fear they may end up in a wheelchair if the condition is not managed or controlled.
This results in serious effects on both physical and mental health.
However, despite the symptoms a recent decision in England has meant that sufferers of lipoedema can no longer get the proper treatment they need, instead some only being offered compression socks to help relieve pain.
Therefore, many women were left looking elsewhere for treatment but found it to be costly and unaffordable.
For example, one of the most effective treatment methods of lipoedema is to remove the fat from the affected areas using liposuction.
Depending on the severity of the condition, there are various liposuction methods available under both general and local anaesthetic that can quickly relieve symptoms and make the condition more bearable to live with.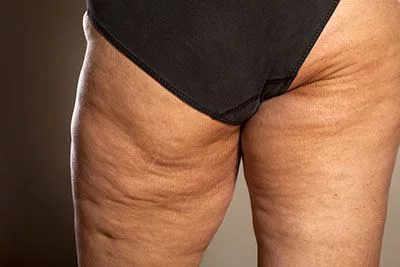 Lipoedema & Lymphoedema
Lipoedema and lymphoedema are both chronic, long term conditions that can seriously effect physical and mental health in women.
Both conditions are often confused with one another and misdiagnosed in many cases.
In addition, patients can sometimes have both conditions at the same time, which causes huge strain on the lower body and energy levels.
However, despite having many similar symptoms, the difference is that one is an abnormal build up of fat (lipoedema) and the other is a build up of fluid (lymphoedema).
The best time to diagnose lipoedema is in its early stages. This means that within 12 months of showing signs, the patient should speak with a specialist and understand their options both short term and long term.
Because lipoedema is difficult to diagnose and is often confused with other conditions or even obesity, patients are sometimes let down and that they struggle later in life due to delayed treatment or misdiagnosis.
The reality of living with lipoedema
Depending at which stage lipoedema is diagnosed, the reality of living with the condition can be unbearable at times and extremely life limiting.
In fact, in severe cases, lipoedema can add up to an additional three stone in weight, on top of your overall body weight.
The reality and perspective of this is to imagine carrying around shopping bags with 30 pairs of shoes in – it would quickly take its toll on your body – and that is just in your legs.
Lipoedema can be diagnosed at any age in your life. However, some women don't receive a diagnosis until they are in their fifties, despite having symptoms when they were thirty years of age.
One of the signs to look out for is sore legs after exercise such as walking.
If you think you may have lipoedema, by all means view photos online to see if there are any similarities, but always speak with a specialist to confirm the diagnosis.
Measures can be put in place before surgery is considered and small lifestyle changes can make a huge difference
Speak with us anytime on 0161 507 8822 and ask as many questions as you like.
Our highly skilled and friendly staff will help you btain a clearer picture and potential treatment plan going forward so you can start enjoying your life to the full.