There are two main methods used for breast reconstruction: implants and by using tissue taken from other parts of the body.
Following breast removal surgery, patients will be advised, and in some cases can choose whether to have reconstruction straight away or wait for another time. These two options are known as immediate and delayed reconstruction respectively.
There is little evidence to suggest one is more beneficial than the other and often comes down to preference of the patient or a surgeons advice based on the current health and wellbeing of the patient.
However, in some patients delayed reconstruction can sometimes be more difficult to perform as tissue is often required to be taken from other body parts to achieve the best possible outcome.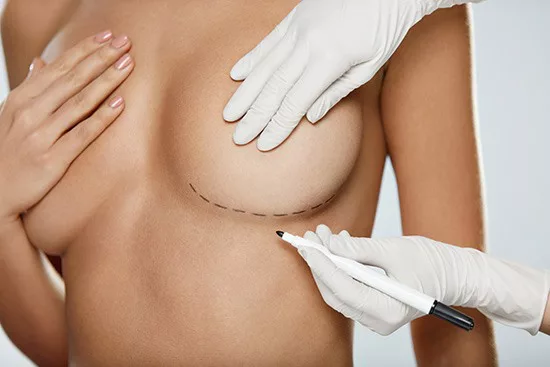 Common Methods of Breast Reconstruction
There are a couple of different methods that surgeons use for performing breast reconstruction. Including:
– Expander Implant
The expander implant method is one of the most common in Manchester and the rest of the UK. A surgeon places the expander implant beneath the chest wall and injects salt water solution via a tube over a set period of time. This technique expands the tissue and skin to the required size before final permanent implant placement.
– Back Tissue Reconstruction
Back tissue reconstruction is performed by using the tissue from the patients back known as the latissimus dorsi muscle. The large flat back muscle can be the 'donor site' of the tissue with affecting the function of the muscle itself. This method is sometimes used in conjunction with an implant depending on the breast size.
– Stomach Tissue Reconstruction
A stomach tissue reconstruction is when a portion of skin, muscle and tissue from the abdomen is taken from the patient and transplanted in to the breasts. Whilst this technique is performed less often due to its challenging nature, some patients prefer it as it is often performed at the same time as abdominplasty. In addition, a large section of tissue can be used, which means larger breasts can be constructed without the use of implants.
– Direct Implant
A direct implant reconstruction is when a final permanent implant can be placed in to the breast immediately following removal. Providing the area is suitable after mastectomy, a patient may prefer the direct implant method as it can have less physiological effects on their mental health, especially if only one breast is removed during surgery.
– Nipple Reconstruction
Although in some mastectomy procedures the nipples can be preserved, they are often removed along with the breast tissue during the operation. However, a nipple can be reconstructed using tissue from other parts of the body and tattoo is used to create the surrounding areola.
At the Manchester Private Hospital, our staff understand that some patients find breast reconstruction difficult and awkward to talk about. However, if you have any questions, regardless of nature, we are on hand to provide the answers you could be looking for. Our pressure-free environment puts you in control of your body and your decisions to make informed choices on what is best for you at all times.
Call us today for advice on 0161 507 8822.