This has resulted in a huge increase in the cosmetic surgery industry with statistics showing an increase year on year over the last three years.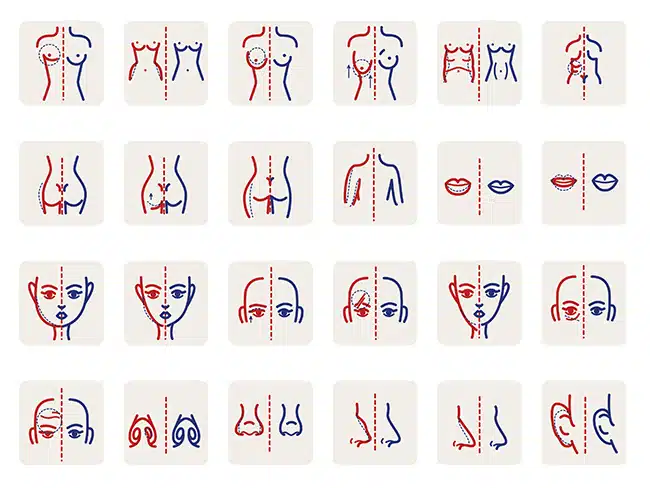 Across the entire UK, the cosmetic surgery business is worth billions of pounds, and with advances in technology and rise in availability, it shows no signs of slowing down.
So what are the most common procedures for females and males?
Women:
1. Breast augmentation
2. Liposuction
3. Breast lift
4. Abdominoplasty (tummy tuck)
5. Blepharoplasty (eyelid surgery)
Men:
1. Liposuction
2. Blepharoplasty (eyelid surgery)
3. Gynaecomastia surgery (breast reduction)
4. Abdominoplasty (tummy tuck)
5. Rhytidectomy (facelift)
Over the last ten years, we have witnessed a rise and fall of certain cosmetic procedures.
For example, in 2018, the amount of people having chin augmentation is significantly less than it was 4 years ago. This is partly down to the alternatives that are available, such as fillers and botox.
A nose job is also another procedure that is not as popular as it once was ten years ago.
However, there are many procedures that are more popular than ever before, including; facelift / neck lift, buttock augmentation, eyelid surgery and bingo-wing correction / lift.
For women, another popular procedure that is on the rise is vulval surgery, also known as labiaplasty.
This cosmetic procedure is one of the fastest growing in popularity over the last 5 years.
The only other procedure that has seen this kind of growth was the butt-lift.
Facelift Popularity
Despite the rise in minor facial procedures, such as botox, facelifts are still very popular throughout the UK.
Whilst injectable treatments can smooth out wrinkles and eliminate lines, it is only temporary and will last for around a few months.
Facelift surgery is viewed as a more permanent option for looking youthful for longer.
One of the reasons behind the rise in facelift surgery is that more celebrities are going public about it, and publicity is given to those who have undergone surgery.
Celebrities are also less embarrassed to admit they have had a facelift.
Celebrities reported to have undergone facelift surgery include; Kris Jenner, Madonna, Janice Dickinson and Sharon Osbourne. To know more about facelift surgery, please visit: https://manchesterprivatehospital.uk/cosmetic-surgery/facelift/
Male Cosmetic Surgery
Whilst men are definitely in the minority when it comes to cosmetic surgery, they still account for a large percentage in the UK industry.
Men undergo the following procedures more often than others; liposuction, surgery on their eyelids, breast reduction to get rid of man boobs, tummy tuck – sometimes in combination with lipo on their stomach to create the ripped look and add more definition, and facelifts.
Breast augmentation
Statistics show that there is a rise in the removal of breast implants. However, this is often because women are having more follow-on surgery to replace their implants with new ones.
This is mostly down to one of two things; to opt for a bigger / smaller implant, or because the lifespan of their existing implants have reached its peak. Some implants can last a lifetime, whereas others need replacing every 10 years on average.
Furthermore, breast augmentation is a cosmetic procedure with one of the highest levels of patient satisfaction.
This is because the results are instantly noticeable and the surgery positively affects a females self esteem and quality of life.
It can impact positively on both the mental and physical well-being. To know more about breast augmentation, please visit: https://manchesterprivatehospital.uk/cosmetic-surgery/breast-enlargement-surgery/
Why Is Cosmetic Surgery So Popular?
There are a few reasons why experts think that cosmetic surgery is so popular. 2 of which are:
1. The increase in selfies via social media.
2. Age discrimination.
Whilst magazines and body shaming is still at an all time high, this is no longer the main reason why people are opting for surgery.
If you have any concerns about the way a particular body part of yours looks, contact us today for a friendly chat and arrange a consultation.