What Is A Hair Transplant?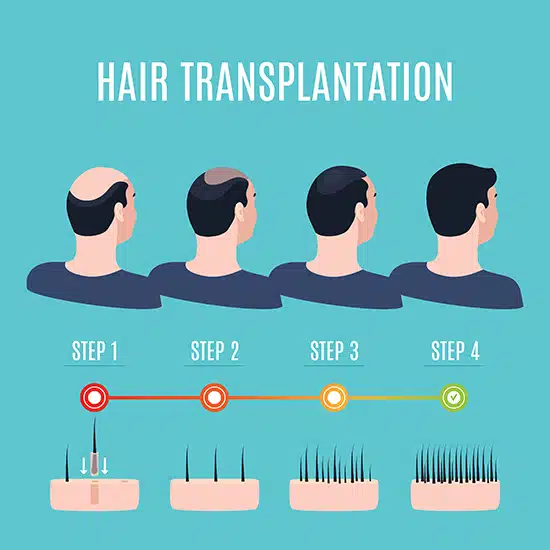 A hair transplant is the procedure of moving body hair from one area to another. The main reason for this is hair loss.
The main reason for this is hair loss.
The hair is moved from a particular part of the body that is not affected by hair loss, to one that is thinning or balding, such as the head.
People who experience hair loss on their head often undertake hair loss surgery procedures to restore lost hair, often through male and female pattern baldness, also known as androgenetic alopecia.
Androgenetic alopecia is the loss of hair over time as people age. The most common form of this is hair that recedes at the front of the head above the temples. This is known as an M shape MPB.
Hair loss is considered as cosmetic surgery because usually it does not cause any harm or mean anything serious. It is purely for cosmetic reasons that people choose to 'correct' bald patches.
At Manchester Private Hospital, we have been performing hair transplant procedures for many years. Our qualified and experienced consultants are able to advise the best course of action to parts of your body that are thinning or bald.
Our surgeons are registered with the General Medical Council, which ensures trust and peace of mind for people in Manchester and surrounding areas who are considering hair loss treatments.
Book a no obligation consultation to discuss your ideas for hair loss treatments and find out everything you need to do before making a decision.
Hair loss surgery is a serious decision and one that should not be made over night. It is important that you allow our consultants to make you aware of transplants that they have performed, complications and side effects and aftercare that is provided post-surgery.
Why Have A Hair Transplant?
People opt for hair transplant procedures for a number of reasons. One being to restore their looks and hair from younger years.
However, whatever their personal reasons are, the results are the same – feel youthful, build or regain confidence and / or get the look you've always dreamed of.
Losing hair can be one of the most stressful situations in life. Men can feel powerless, self-conscious and vulnerable as hair recedes. Often younger men struggle to adapt to the change of losing their hair and become anxious, as they are unable to style their hair as they once could.
Although hair-loss on the head, also known as MPB and 'egg in the nest', is the most common reason and areas for transplants, it is not the only body part whereby people undergo treatment.
Eyebrow transplants are very common and hair-line reconstruction too. Reconstruction of hair-lines are for people without an existing condition, but naturally have a high front hair-line that they are unhappy with.
If you are self-conscious about balding or have a common genetic condition, hair transplants can be used to fix thinning of the crown, front hair-line and temple balding.
Both women and men undergo hair loss treatments and are equally as effective.
The Procedure:
Hair transplants usually do not require general anaesthetic and can be performed under local anaesthetic only.
There are 2 main types of hair loss corrective surgery:
FUT – follicular unit transplantation, also known as strip method
FUE – follicular unit extraction.
FUT does not require the head to be shaved, whereas FUE procedures usually involve shaving the head completely.
In FUT, a strip of hair is removed from the sides of the head and back, then divided in to individual grafts.
Each hair graft contains 1 to 2 hairs and are placed in to very small incisions made in the scalp.
Stitches are used to close the wound at the back of the head.
In FUE, once the entire head is shaved, a special device is used to remove, or punch, individual hairs one at a time.
Each hair is carefully placed in to very small incisions in the scalp.
There are several comparisons between the two methods and there is no right or wrong answer. Whilst certain people prefer one method, other people prefer the other. Each transplant method usually takes one full day to complete, however, this is a day procedure and patients are usually sent home the same day. Walk in, receive treatment, walk out.
If large or multiple areas are undergoing procedure, you may be advised to have a couple of sessions. In these circumstances, consultants will advise accordingly and usually recommend leaving 1-2 months between sessions.
Recovery
As with all cosmetic procedures, there are recovery and aftercare plans that will be recommended to you by our surgeons. It is important that you follow any instructions given, as each individual varies from case to case.
Whilst pain should not be felt during your hair transplant, you may experience pain or discomfort afterwards once the local anaesthetic wears off. This is entirely normal.
Often, special lotion or spray is provided to patients to use regularly at home.
Some local anaesthetics or sedatives can take up to 1 full day to wear off, so it is important to be accompanied by a companion who can transport you home following your treatment.
The average time that patients return to work following hair transplants is 3-5 days.
FUT procedures are known for being less noticeable and require less recovery time than FUE.
Following your surgery, it is important that you are careful with the hair that has been transplanted for up to 2 weeks. This is due to the fact that fresh hair grafts are not entirely secure until the core healing process is complete. Being careful includes washing and brushing routines.
However, after 2 weeks has passed, normal hair care can be resumed as long as you do not exercise too much or sweat excessively. In some cases, strenuous exercise within the first month can increase the chance of scarring. So it is advised to keep this to a minimum
Post Surgery Care
Following a hair transplant, bandages will be applied to the affected area. These can be removed after a couple of days and hair can be washed very gently if necessary.
If surgery requires non-dissolvable stitches, these will be removed after 7 days.
In the first 2-4 weeks after your procedure, it is common for the transplanted hair to fall out. This is nothing to worry about and it will later start to grow back. However, if you are concerned about this you can speak to your aftercare professional for advice.
Any hair that falls out in the early weeks post surgery will start to appear in around 6 to 8 weeks.
Patients can expect to see the full results and effect of their surgery after one to one and a half years.
Complications
With cosmetic surgery, there are often side effects and in some cases complications depending on your treatment and circumstances. Your surgeon will discuss in detail what to expect during and after your transplant.
Hair transplantation is considered a safe procedure in most cases.
It is common to feel as if the scalp is swollen following your surgery, along with a tightness and aching feeling.
Any scabbing that you experience where a hair transplant has taken place will be temporary and nothing alarming.
Patients should expect to see some scarring on the head, which will fade and be less noticeable the longer your hair is.
Other complications can include; infections, bleeding excessively and allergic reactions to anaesthetics. If you experience any of these it is important to speak to one of our professionals for treatment.
During your consultation pre-surgery, you will also be made aware of any bigger complications that can occur. One of these is that the transplant won't take and the hairs fall out.
Another issue that is considered a complication is that if the reason for hair transplant is male pattern baldness, hair may continue to thin or bald in the region around the transplant. This means that the transplant will remain hairy, but other parts will recede.
Careful planning and expert advice can help minimise the risk of this happening.
Why Us For Hair Transplants?
At Manchester Private Hospital, we provide professional, cost effective surgery that make hair loss treatments affordable.
Our experienced, qualified consultants have years of experience in the industry of helping thinning and balding body parts.
We understand the ins and outs of hair loss, and provide a safe, pain-free experience with the use of local anaesthetics.
Our surgeons have a proven track record of providing transplants for hair without visible scarring. The hair we harvest using our expert punch techniques are only visible under magnification.
The results our team produce are natural looking, giving you peace of mind of knowing that once the areas has healed, it will be undetectable to others as if the hair had originally grown.
Our friendly consultants provide a no obligation consultant with all patients on a personal level. We listen to your needs, provide expert advice and act according to your body requirements. We put patient safety first and address any concerns you may have up-front, with no pressure to proceed if you are uncomfortable with the advice we provide. Ensuring you are happy every step of the way is of utmost importance to our surgeons.
Consultation
Just because your parents or grand-parents had thin hair or a bald head doesn't mean you have to.
Regain your confidence and put an end to hereditary-pattern baldness with a hair transplant that looks natural and puts you back in control.
Pick up the phone and give us a call today on 0161 507 8822 to chat to our friendly team about hair transplants and book a no obligation consultation.
Or, you can contact us via email using the contact form on our website. We can either send you more information or call you back to discuss your hair transplant needs.